Great networking at the B2B Vip Area Lounge sponsored by BtoBet at The Amsterdam RAI and very productive opinion exchange during the interesting panel dedicated to the Mobile UX.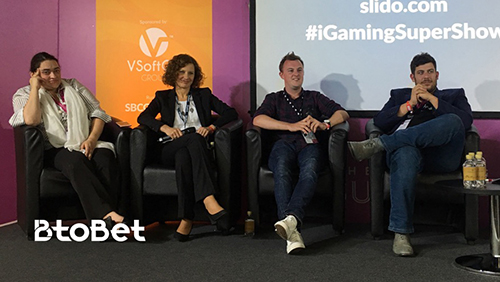 The combination of technology and personalisation is the key to attain an excellent Mobile UX. This is what industry leaders have discussed during the Panel "Mobile UX – the next big challenges for bookmakers" of the recent international iGaming Super Show in Amsterdam where BtoBet's CEO Kostandina Zafirovska was speaker. She shared her vision with other leaders of the industry discussing about the steps operators must follow to attract and retain players in the European regulated markets.
To have an insight on the themes discussed during the IGSS panel, download the Technical Handbook "Mobile UX – navigating the challenges."
BtoBet – as sponsor of the B2B Vip Area Lounge – welcomed several experts of the sector and operators who showed great interest in discovering BtoBet's advanced technology tools to manage the mobile sports betting business in Europe and worldwide.
Commenting BtoBet's participation to the show, BtoBet's CEO Kostandina Zafirovska stated:
"iGaming Super Show has demonstrated once again to be one of the biggest dedicated iGaming exhibition and conference in the gaming industry. It showed high level of contents – covering accurate market analysis and useful tips – and extremely interesting networking. In Amsterdam we had the chance to greet our existing partners and had great feedback from new companies willing to develop their business in Europe with BtoBet' sportsbook platform tech tools. At the VIP Lounge Area all our operation partners felt special and have been treated as VIPs, having direct answers to their specifics requests."
About BtoBet
BtoBet is a pioneer in new technologies for iGaming operators and the betting industry by using technological intelligence as its main base for its products. It offers unique, customizable, secure and flexible cloud-based systems delivering unprecedented capabilities to drive sportsbook and iGaming business. BtoBet has the Technical team of the company is in Skopje and has an ever-growing team of developers. BtoBet's dynamic Sportsbook team operates from Rome, whilst Malta hosts the commercial and marketing center. Visit our site on: www.btobet.com