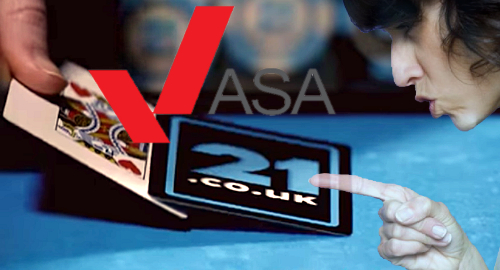 The UK's advertising watchdog has spanked the operator of online gambling site 21.co.uk for a television commercial that somehow made a man in a tuxedo look too tough.
This week, the Advertising Standards Authority (ASA) took issue with 21.co.uk's owner, the Alderney-based Intellectual Property & Software Ltd (IPS), for a television spot (viewable below, at least for the time being) featuring a tuxedoed man playing blackjack at a land-based casino table.
A voiceover described the man's heart pounding while his body remained still. "Heart versus head. Emotion versus reason. He makes his move. He makes his own luck." As luck would have it, the man's bet proves a winner and he smiles with satisfaction.
A TV viewer complained that the ad was socially irresponsible because the man appeared to be experiencing the kind of psychological thrill enjoyed by gambling addicts. Meanwhile, the ASA itself suggested the phrase "he makes his own luck" implied that gambling involved more skill than chance, while the bloke's demeanor "portrayed gambling in a context of toughness."
The ASA dismissed the viewer's complaint because it found the man's visible excitement to be too subtle to resemble that of a gambling addict. The ASA copped to the fact that "online casino games were entertainment products that involved an element of risk," and thus some excitement was understandable.
However, the ASA upheld its own complaint re the skill v. luck question, despite IPS arguing that, unlike most casino games, blackjack was a beatable game if a player employed the right strategy. Unconvinced, the ASA ruled that the "makes his own luck" comment over-emphasized the role strategy could have on the outcome of the game.
Similarly, the ASA upheld its complaint re Tuxedo Boy looking too tough, despite acknowledging that he "did not display overt attributes of physical toughness." The ASA said his body language and "confident gaze" would be viewed by consumers as displaying "mental toughness or resilience," which is evidently still too tough for the UK's gambling advertising rules.
The ASA ordered IPS not to run the ad again in its original form and to ensure that all future spots depict only timid women shrieking in terror as they clutch bingo dabbers so tightly that their knuckles turn white. Or something.
Comments