In this week's Calling The Clock Chris 'Jesus' Ferguson is in contention to win the World Series of Poker Player of the Year; partypoker launch innovative new 'Button Ante' concept, and much more.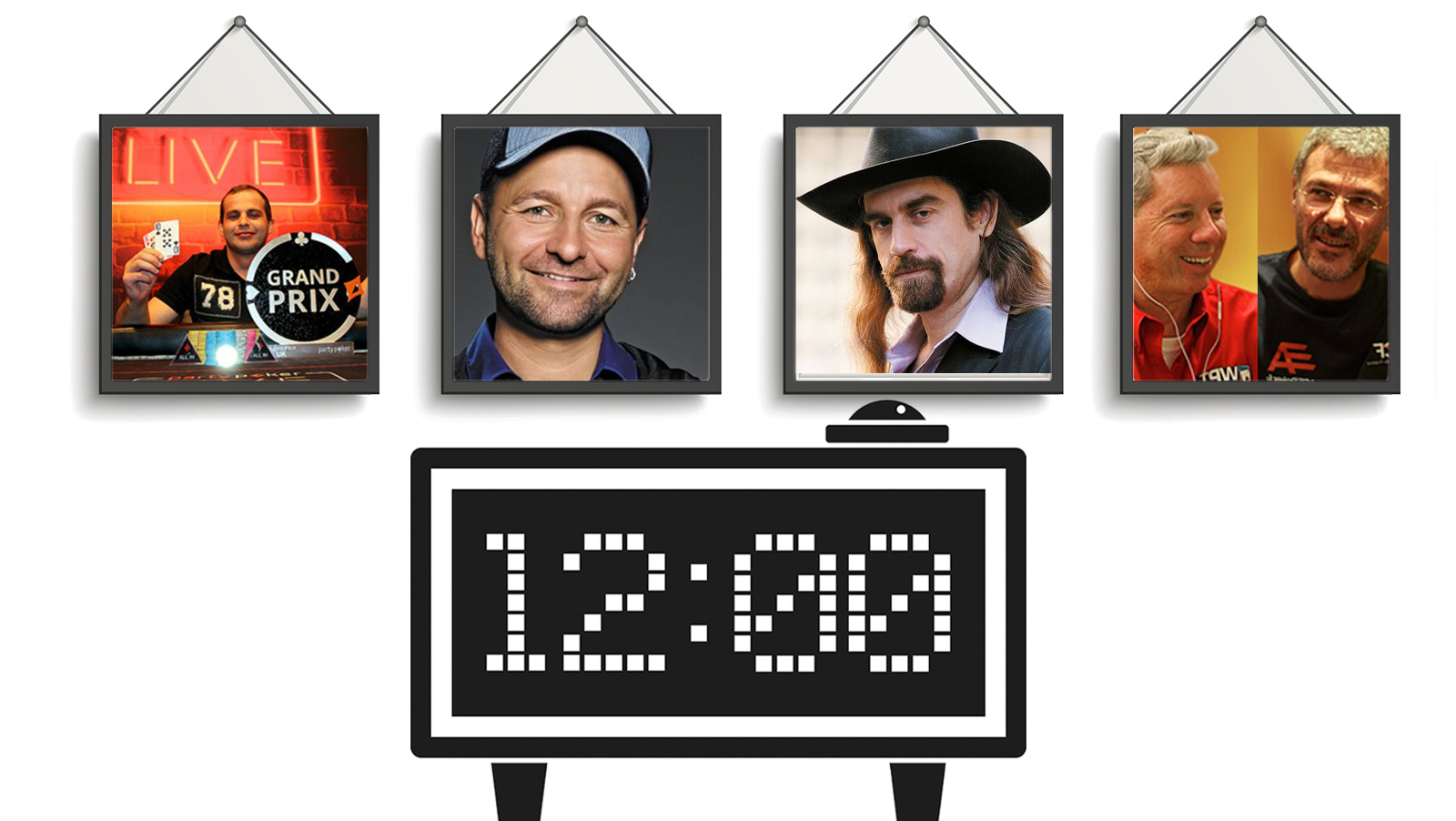 The World Series of Poker (WSOP) has gone through 51 events like a witch hunt goes through pitchforks, and there could be one almighty embarrassment on the cards in the Player of the Year (POY) race.
Ray Henson currently leads the way with 614.87 points after nine cashes and four final tables, but sitting in second position on 599.50 points is the man the poker world loves to hate: Chris 'Jesus' Ferguson.
The disgraced Full Tilt man, and former WSOP Main Event Champion, has cashed in 12 events, including a fourth place finish in the $10,000 Pot-Limit Omaha Hi/Lo Championship event.
Ferguson returned to the WSOP tables in 2016 after a six year hiatus following his role in the Full Tilt scandal that resulted in everyone wanting to see him sent to bed without any dinner. He cashed in ten events in his first year.
Hate the carrot slicer as much as you like, he has cashed in 22 events in two-years and we haven't even finished yet, making a mockery of the belief that if you step away from this game it quickly passes you by.
Here are the current standings:
1. Ray Henson (614.87)
2. Chris Ferguson (599.50)
3. John Racener (580.05)
4. James Obst (555.58)
5. Mike Leah (542.99)
6. Ryan Hughes (530.13)
7. John Monnette (511.30)
8. Daniel Negreanu (488.91)
9. Aditya Agarwal (486.53)
10. Dario Sammartino (482.74)
A point of observation – the only man to win two bracelets at this year's festival is David Bach, ranked 20.
As you would expect, when it comes to geographical stats the United States has won the most bracelets with 36. Russia is the nation winning the Rest of the World battle with four, one more than the UK, and that's thanks to Dmitry Yurasov's victory in the $10,000 No-Limit Hold'em Championship. The Brits remain in the race thanks to Chris Brammer's victory in the $5,000 No-Limit Hold'em Turbo event.
The largest prize of the week went to Brian Yoon after defeating 6,717 entrants in the MONSTER STACK for a $1.1m. It was Yoon's third bracelet, and second success in a 6k+ field after winning the $1,111 Little One For One Drop a few years back.
Loren Klein and Chris Vitch both won their second career bracelets in the $1,500 Pot-Limit Omaha and $10,000 Seven Card Stud Hi-Lo 8-or-Better Championship, and the aptly named Nathan Gamble ended up on the podium after winning the $1,500 Pot-Limit Omaha Hi-Lo 8.
Other bracelet winners this week were Ernest Bohn ($1,500 Seven Card Stud Hi-Lo 8-or-Better, Ben Maya ($1,500 No-Limit Hold'em Shootout), Matthew Schreiber ($3,000 H.O.R.S.E), Luis Calvo ($3,000 Pot-Limit Omaha 6-Handed), Bryce Yockey ($10,000 Pot-Limit Omaha Hi-Lo 8-or-Better Championship), and Chris Bolek ($1,500 No-Limit Hold'em Bounty).
The World Poker Tour Create a New Musical Score; Add Two More Players to the Honours List, and Lose a Champions Club Member
The World Poker Tour (WPT) released a new televised broadcast musical into this week.
The WPT CEO and President, Adam Pliska, co-wrote Rise Above alongside composer Sharal Churchill. Pliska told the world that the WPT are the storytellers of the industry before revealing that they create all of their music in-house.
Mike Sexton and Bruno Fitoussi are set to join Linda Johnson in the WPT Honours List. The pair will receive the accolade during an intimate dinner for friends and family this weekend. Sexton left the WPT at the end of Season 15 to take up the position of Chairman with partypoker. Fitoussi is one of those names that always gets a mention in the Poker Hall of Fame nomination process but never gets a look in.
And finally, the WPT has lost one of their Champions Club members after Manuel "Noli" Francisco passed away after suffering kidney failure. Noli won the Season 2 WPT Borgata Poker Open. He was 72-years of age.
Partypoker Launch Button Ante Concept; Gordonas Wins UK Grand Prix; Becker Bankrupt
Last week we reported that 888Poker had broken new ground by installing shot clocks at every table for forthcoming 888Live events, and partypoker has also been innovating this week.
The online poker room has partnered with King's Casino to host the German Poker Championships, and will introduce a Button Ante concept. Instead, of everyone submitting an ante, only the button will do so, increasing the efficiency of each hand once the antes kick in. It's a positive move, and I expect other live tour operators to make this rule mandatory in due course.
Robertas Gordonas took down one of the biggest tournaments outside of Las Vegas this week when he won the partypoker LIVE UK Grand Prix for £150,000. The £1m Guaranteed event had no hiccups hitting that milestone after attracted 5,143 runners.
And don't ask Boris Becker to buy you a pint.
This week, the Bankruptcy and Companies Court in London declared the three time Wimbledon champion bankrupt after failing to pay an outstanding debt to a group of bankers who finally lost patience. Becker took to Twitter to tell his adoring fans that the whole thing was a joke, and that he has the money tied up in real estate.
Ignacio López wins PokerStars Festival Marbella; Carrion in, Stuchly & Soloveychik Out
Ignacio López, a 29-year-old tax assistant from Madrid, won the €152,400 first prize in the €1,100 PokerStars Festival Marbella this week. López cut a deal with Iñigo Naveiro, and the former PokerStars Team Pro Leo Margets when three-handed before going on to beat Naveiro in heads-up action. The seven-time World Snooker Champion, Stephen Hendry, also appeared, and spoke about his experience in the following video:
The Marbella event attracted an impressive 949 entrants, and they will be hoping for more of the same when the PokerStars Championships arrives in Barcelona in August.
The live tour hasn't been doing so well of late, and that lack of whatever it is has led to a change of the guard. Out go Edgar Stuchly and Vadim Soloveychik, and in comes David Carrion. According to Poker Tube, Stars sacked both Stuchly and Soloveychik after their recent poor showings in Championship events, although Stars have not publicaly stated that those allegations are true. Carrion takes up the role of Director of Marketing and Interim Director of Live Events.
Daniel Negreanu Partners With MSOP; Adda52 Sign Minissha Lamba; Maria Ho Joins Amazon
Daniel Negreanu joined the Major Series of Putting (MSOP) team this week, as both brand ambassador and player. The event aims to crown the best putter in the business with a championship event taking place in a specially built course at the back of Planet Hollywood.
The Indian facing online poker room Adda52.com has signed Minissha Lamba to represent the brand in an ambassadorial capacity. Lamba is a star of Bollywood, and you can see her patched up at the WPT500 in the Aria, Las Vegas this weekend.
Finally, Maria Ho has agreed terms with Amazon to become ambassador for their new esports initiative, and also act as on-screen host for the Mobile Masters Invitational taking place at New Jersey's Prudential Centre.
Time ladies & gentlemen, please.
Someone has just called the clock.
Comments