World Poker Tour CEO Adam Pliska co-writes the televised broadcast's new musical score 'Rise Above' as the WPT Legacy Through Art Series continues.
If there was one musical act that you wish you could see, but can't, who would it be?
Mine is Pavarotti.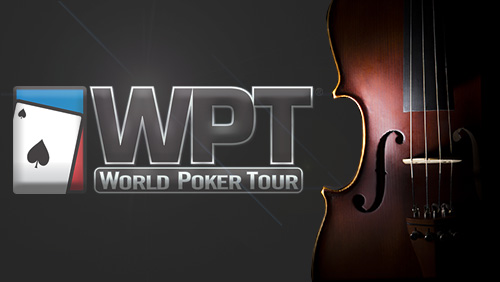 When I was a kid anyone taking a liking to classical music would have been beaten up like the boy, everyone called Michelin Man, but all that changed in 1990.
England was competing in the World Cup in Italy, forever known as Italia 90. We had Gazza, Gary Lineker, and we were going to win the World Cup.
Of course, we didn't win anything.
The Germans beat us in a penalty shootout, and I cried harder than at any other time watching football, and part of the reason was the emotional intensity of the theme tune Nessum Dorma by Pavarotti.
Music and sport compliment each other because they're both drenched in natural emotion. And classical music can drag a stubborn tear out of the most hardened of individuals.
So it's no shock to hear that the World Poker Tour (WPT) has created a new score for their televised broadcast, but it is a surprise to listen to the name of the man who co-wrote the score.
Adam Pliska, CEO of the WPT, is a man of many talents, but one thing I didn't know about him was his ability to compose a piece of music that straightens your backbone, quietens your mind, and cleans out the tear ducts.
Rise Above is the new musical score for the WPT, co-wrote by Pliska and composer Sharal Churchill. The piece is a stunning celebration that takes you from having your name stitched into your school jumper to having it engraved on the side of the WPT Champions Club trophy.
"We wanted to tell the journey of the player," said Pliska. "It's about winning, and pushing yourself to the next level – being the best."
It's not only Pliska who knows the difference between a quaver and a crotchet. The WPT create all of their music.
"We have created an extensive music library," said Pliska. "Both to use on our show and in other reality, and sports-based programming to help complement the great stories that play out on screen."

WPT Studios and Big Block Entertainment produced the piece. It's the third instalment of the WPT Legacy Through Art Series, which began in 2016 with Steph McArthur Painter Sculptor's piece showing Mike Sexton and Vince Van Patten playing poker with a demon in Light in the Darkness and continued with Jorge Torrealba's custom card design exhibit and a deck of WPT playing cards.
So what is art?
"To bring that drama, emotion, intensity that happens at the poker table and bring it to the screen, that's the art." Said Pliska.
Forearm hairs at the ready.
The Making of Rise Above
The Rise Above advert