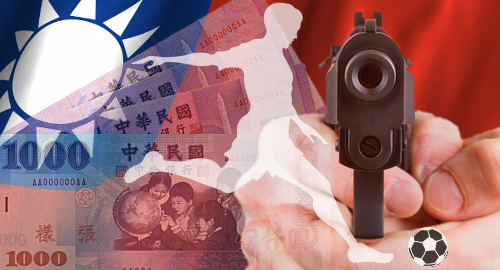 A dispute between unauthorized online gambling operators in Taiwan has led to the deaths of four individuals, according to local media reports.
Last week, the Taipei Times reported that two men and one woman had died of "execution-style" gunshot wounds to the head at an office building in Taoyuan's Jhongli District on June 22. A third man, Chang Chun-hao, the alleged culprit behind the killings, died of a self-inflicted gunshot wound to the head after being cornered by police while trying to flee the scene of the crime.
According to the report, Chang ran a profitable but highly illegal online sports betting operation from his residence and a private office. Police found a total of 15 computers at the two locations, and believed Chang was netting between NTD3m-5m (US $98k-164k) per month from thousands of betting clients.
In March, around 1k of Chang's clients reportedly defected to a rival online betting outfit run by two of the shooting victims. Rumors had circulated that Chang's operation was in financial difficulties and Chang suspected that the rival operation was the source of these rumors.
A man named Yang who worked for the rival betting operation was both a witness to and sole survivor of the attack. Yang told the police that Chang entered a suite on the eighth floor of the office building and fired a single shot toward a window, after which Yang hid under his desk.
Chang reportedly fired a total of nine shots from a Colt 9mm semi-automatic pistol before leaving, and it was only after the shots faded away that Yang felt confident enough to emerge from under his desk. Seeing the bodies of his co-workers "covered in blood," Yang called the police.
Police reported seeing Chang exit the building, prompting them to follow him briefly before asking him to produce identification. Appearing to cooperate, Chang reached into his bag but pulled out a gun and began firing while running away. Unharmed, police gave pursuit and, with the help of another unit, cornered Chang in an alley, after which Chang turned his weapon on himself.
Online gambling remains illegal in Taiwan yet hardly a month goes by without the authorities announcing yet another bust of yet another operation, which invariably targets punters on the Chinese mainland. At present, the only acceptable form of gambling in Taiwan is the lottery, which has more points of sale than Taiwan has 7-11's.
Comments