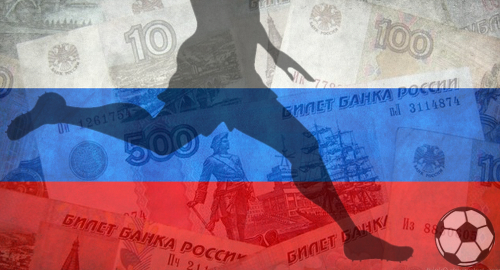 Russia's regulated sports betting market could triple its turnover over the next five years thanks to new market entrants and high-profile sports events like the 2018 FIFA World Cup.
Russian gambling affiliate Bookmakers Ratings recently issued a new report that pegged current annual turnover of the Russian betting market at around RUB 677b (US $11.75b), of which around 60% is claimed by Russian-licensed operators. Annual betting revenue in this country of 144m people is estimated at RUB 47b (US $816m).
The report projects that the growing number of licensed online bookmakers, coupled with interest driven by Russian-hosted marquee sports events – such as this year's Confederations Cup and next year's FIFA World Cup – and new rules permitting bookmakers' sports sponsorship opportunities, could push the legal betting market's annual turnover to RUB 1.3t ($22.5b) by 2022.
The report notes that roughly 65% of Russian bettors continue to patronize unauthorized internationally licensed online gambling operators. Yuri Krasovsky, president of bookmaker Liga Stavok, estimates this figure is closer to 80%.
There are at present 29 Russian-licensed bookmakers, and only 11 of these – Liga Stavok, 1xBet, Winline, Betcity, 888 (not the UK operator), Fonbet, Olympus, Baltbet, Leon, BingoBoom and PariMatch – are licensed to take online wagers.
UK-listed operator GVC Holdings recently became the first international betting operator to license one of its brands to legally operate in Russia. Earlier this month, GVC announced a deal with local operator Digital Betting to launch the Bwin.ru site later this year, and hopes are high that other international bookmakers will follow GVC's lead.
Accessing unauthorized betting sites could become much harder for Russian punters if new legislation to ban virtual private networks (VPN) is approved. A bill to prohibit the use of VPNs and force internet search engines to block access to sites promoting VPN use is scheduled for its first reading in the Duma this month.
Comments