Partypoker finished off a successful MILLION Germany festival after Michal Mrakes took down the €1,100 Main Event for €200k; partypoker Ambassador Natalie Breviglieri finished sixth.
There's an old adage that a lucky man falls into a vat of nipples, and comes out sucking his thumb. Recently, partypoker seems to have fallen into a vat of thumbs, and each time I see them, they are sucking on a nipple.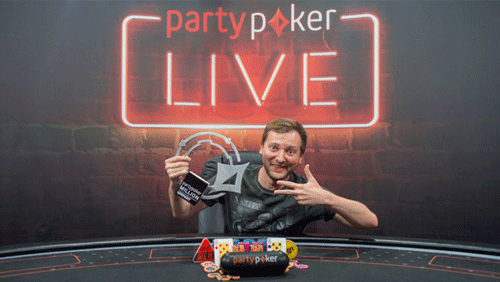 For the past decade, there has been barbed wire protecting the live tournament scene in Europe. PokerStars erected it during a period when they delivered customer value as frequently and accurately as a Japanese postman delivers manga magazines to horny teenagers. Partypoker is standing by that barbed wire armed with a pretty impressive pair of bolt cutters, and they are snipping.
With the pros heading to Las Vegas armed with a dream, it seems foolhardy to organise a live event anywhere else in the world, but partypoker relish a challenge.
The King's Casino in Rozvadov, Czech Republic, has been playing host to the partypoker MILLION Germany Main Event this past weekend. Yesterday, we celebrated with partypoker Ambassador Anatoly 'nl_profit' Filatov as he took down the €2,200 High Roller for €42,000, and today we take a peek at the €1,100 Main Event.
PokerNews were on hand to cover the live reporting, another sign that partypoker are taking their challenge of becoming the number one live tournament organiser as seriously as a fire warden holding a clipboard, and they reported that Michal Mrakes was leading the final 26 players going into Day 3.
Mrakes sauntered to the final table, where the German player Raul Cruc temporarily captured the chip lead. It was a challenging final table for a €1k event.
It looked a little something like this:
Seat 1: Sonay Kehya – 11,700,000
Seat 2: Frederic Femont – 7,250,000
Seat 3: Natalia Breviglieri – 12,200,000
Seat 4: Michal Mrakes – 6,750,000
Seat 5: Raul Cuc – 12,425,000
Seat 6: Sandro Pitzanti – 5,525,000
Seat 7: Sliverer – 4,450,000
Seat 8: Eddy Scharf – 11,900,000
Seat 9: Grzegorz Gosk – 9,250,000
Sonay Kehya made the final table of the PokerStars Festival Rozvadov Main Event in March, finishing ninth. Grzegorz Gosk once won an Estrellas Poker Tour Main Event in 2011 for £126,959. And Eddy Scharf was a two-time World Series of Poker (WSOP) bracelet winner albeit at a time when we were contemplating sending Neil Armstrong to the moon.
The standout act, was, of course, the partypoker Ambassador Natalia Breviglieri, who was making her second final table appearance in the King's Casino in recent months after winning a €100 buy-in event at the partypoker Grand Prix.
Breviglieri was unable to make it a partypoker Ambassador double after Michal Mrakes sent her to the rail in sixth place, a hop skip, and a jump after taking out Kehya in seventh.
Mrakes was taking people out quicker than Arnold Schwarzenegger takes actors out with his fake Bere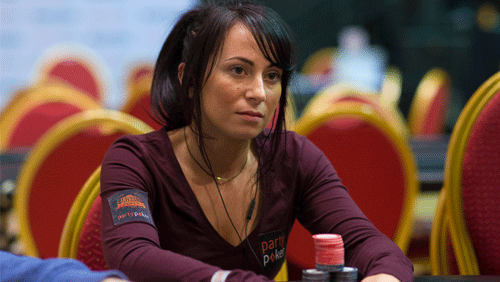 tta, and the next to feel his sweet chin music was Scharf, who was knocked out in fourth place when his jacks run into the straight of the Czech player.
The heads-up fight between Mrakes and Sando Pitzanti took top billing after Mrakes took the scalp of Gosk in third place. The Pole moved all-in with A5; Mrakes snapped him off with K9 and flopped a nine.
Mrakes went into the final phase of the tournament with a 7:1 chip lead. Understandably, the pair couldn't come to an agreement on a chop, and Mrakes ended it swiftly, winning a flip 88>QT to take the €200,000 first prize, taking his all-time earnings over the $800k mark.
Here are the final table results:
1. Michal Mrakes – €200,000
2. Sandro Pitzanti – €120,000
3. Grzegorz Gosk – €80,000
4. Eddy Scharf – €45,000
5. Raul Cuc – €32,500
6. Natalia Breviglieri – €22,500
7. Sonay Kehya – €15,000
8. He Who Shall Not be Named – €15,000
9. Frederic Femont – €10,000
The event pulled in 820 entrants, just missing the €1m guarantee by fifty grand – more of a paper cut than a shotgun wound, methinks.
Comments