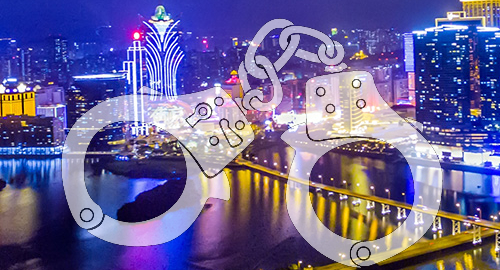 Macau's crime rate shot upward in the first three months of 2017, in part due to a surge of gamblers trying to pass off counterfeit casino chips as the real deal.
Figures released this weekend by Macau Secretary for Security Wong Sio Chak indicated that Macau Judiciary Police (PJ) filed 3,502 criminal reports in the three months ending March 31, 5.1% higher than the same period last year. Gaming-related crimes – defined as taking place in or around casinos – were up 15.2% to 424.
The number of people actually arrested and forwarded for prosecution was up 12.8% to 1,822. Of these, 445 were charged with gambling-related crimes, 5% higher than in Q1 2016. Wong credited the increased gaming crime numbers to better enforcement measures within casinos.
Crimes involving unlawful detention, which typically involve loan sharks detaining gamblers until family or friends on the mainland can make good on their gambling debts, were up 18% to 105. On the other hand, crimes of usury – the lending of money at exorbitant rates – was down 16%.
Individuals accused of "false currency" crimes nearly doubled from 50 to 95 cases. Of the MOP 8.8m (US $1.1m) in bogus currency involved in these crimes, all but MOP 400k came from gamblers attempting to introduce bogus casino chips into play.
This month has been a busy one for the PJ, at least in terms of gaming-related crimes. Six men were recently arrested for their involvement in a coordinated plan to steal casino chips worth HKD 600k ($77k) from a single gambler, with some of the crooks responsible for nabbing chips while the others did their best to obscure the thievery from security.
Last week, the PJ arrested 11 men and women suspected of operating a loan sharking ring out of a residential flat. The accused reportedly hung out around casinos over the past six months offering gamblers business cards detailing their "24-hour service" of ready cash. The 11 accused reportedly acted as agents for an unidentified kingpin, who received 70% of the profits.
Sadly, corruption is an equal opportunity employer, as evidenced by the six Public Security Police (PSP) officers recently sentenced to lengthy prison terms for a variety of offenses, including tipping off local loan sharks as to the timing of police raids, as well as arranging for banned travelers to slip in and out of Macau's border crossings undetected. Three other PSP officers were arrested on similar charges last weekend.
Comments