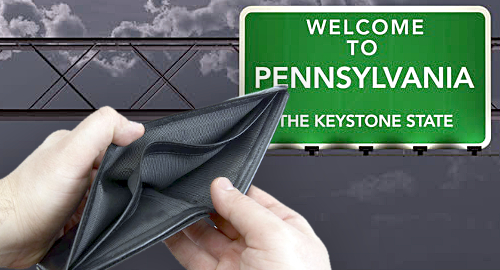 Pennsylvania's state senate amended its online gambling proposal on Tuesday, but its tax plans will likely prove a non-starter with operators.
On Tuesday, two Pennsylvania senate committees approved the latest version of HB 271, which seeks to authorize online gambling, daily fantasy sports and fix the state's unconstitutional host community slots share program. Just for fun, legislators added provisions for the state lottery to launch online operations, because there simply weren't already enough moving parts to this regulatory centipede.
As telegraphed earlier this month, the main takeaway from the amended bill is the 54% tax on online casino revenue, which mirrors the nation-high rate applied to land-based slots at the state's 12 casino operators. Online poker operators get off comparatively scot-free with a mere 16% revenue tax rate, the same rate applied to brick-and-mortar casino table games.
In a word, no. While one can sympathize with legislators' desire to close their nine-figure budget gap, trying to do so on the backs of online casino operators won't work when no operator applies for a license. (Which will cost $5m upfront for either online casino or poker, $10m if you want to offer both, and these fees aren't credited against future tax obligations. Renewals cost $250k. )
As for the bill's other provisions, daily fantasy sports operators are facing license fees of $50k or 7.5% of annual revenue, whichever is less. The licenses are valid for five-year terms, with renewals costing $5k. DFS operators will also pay 12% tax on their revenue.
The iLottery provisions allow the state lottery to offer a product mix that spans the gamut from draw ticket sales to instant win games, social gaming and pretty much anything else they can come up with, so long as it doesn't "simulate casino style lottery games, specifically including poker, roulette, slot machines or blackjack." GamblingCompliance scribe Chris Krafcik (@CKrafcik) tweeted that the iLottery plan was included to placate minority Senate Democrats.
There's still lots of sausage to be made here, as the full Senate has yet to vote on the bill, and the state House of Representatives will have its own tweaks to offer. But the legislative calendar is running out, and it's anyone's guess whether consensus can be reached before legislators flee the state capitol for their summer vacations.
Comments