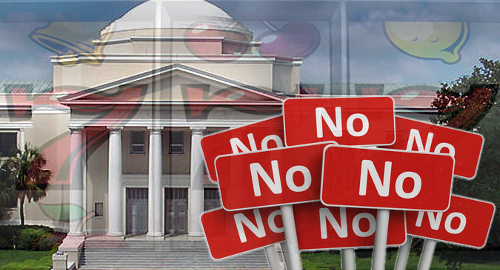 Florida's state Supreme Court has ruled that pari-mutuel dog and horseracing operators don't have the right to launch slot machine operations without state approval.
On Thursday, the state's highest court unanimously rejected a lawsuit filed by the operators of Gretna Racing, who had claimed that a voter-supported referendum in Gadsden County had cleared the way for the track to add slot machines to its gaming options.
Under existing state law, pari-mutuel slots operations are confined to Miami-Dade and Broward counties. Legislators have attempted multiple times to shake up the state's gaming market but always failed to reach consensus, with the most recent effort going down to defeat earlier this month, largely due to the House of Representatives balking at Senate plans to authorize slots operations at tracks and jai-alai frontons in eight additional counties.
Justice Charles Canady, who wrote the Court's 6-0 ruling, states that expanding gaming operations via a referendum requires "statutory or constitutional authorization" and such authorization was "nowhere to be found' in this case. Canady said "a county cannot initiate a referendum that will authorize the [Florida Division of Pari-mutuel Wagering] to issue a license any more than the county could itself issue a slot machine gaming license."
Anti-gambling advocates celebrated the ruling, as did the Seminole Tribe, which holds a monopoly on certain casino games in the state, as well as slots operations outside Miami-Dade and Broward counties. Seminole spokesman Gary Bitner called the Court's ruling "very good for the state of Florida and the Seminole Tribe."
The Seminoles have been operating without a ratified new gaming compact with the state due to legislators' inability to resolve their differences on gaming issues. Despite the lack of a formal agreement, the Tribe has continued to make monthly payments of around $20m to the state as a show of good faith.
The Court's ruling offers new hope that the Tribe and the state will reopen discussions that will lead to the approval of the new compact. The legislature could yet approve slots expansion plans at some future date, but only under terms that the Tribe would find acceptable.
Comments