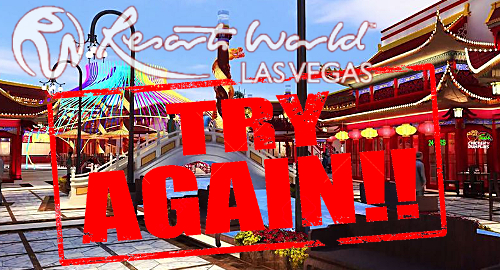 Stop us if you've heard this one, but Malaysian casino operator Genting's $4b in-development resort on the Las Vegas Strip has been pushed back another year.
On Wednesday, the Getting Group announced that gaming industry veteran Edward Farrell (Harrah's, Foxwoods, MGM) had been named president of Resorts World Las Vegas, Genting's first effort to establish a casino presence in America's top gambling hub.
The company also announced that it was pushing back RWLV's scheduled opening by one year to 2020. If that sounds familiar, it's because it was only last May that the company announced it was delaying RWLV's opening by one year to 2019.
Early-stage construction is already underway on the project, but all the talk over the past couple years about younger demographics' shifting preferences for how they spend their Vegas time apparently spooked Genting into rethinking its original design plans.
The property has made no bones about its intention to cater to Chinese-American locals and Chinese tourists so the original design featured a lot of what Farrell called "traditional, older Chinese architecture and elements." (The plans even featured a Great Wall replica.) The Associated Press quoted Farrell saying the new design was "much more Shanghai than maybe Beijing, with technology and a modern looking feel."
Farrell told the Las Vegas Review-Journal that Genting didn't want to "just copy what's been done, but use technology that is coming about and be the modern casino." While the property's 100k-square-foot gaming floor will obviously donate a lot of space to baccarat tables, Farrell said a Nevada-licensed Genting subsidiary was already at work designing bespoke slot machines that reflect "the more modern Chinese theme."
Genting expects construction to ramp up over the next few months and "full construction" to get underway by Q3. In addition to its gaming options, RWLV will also feature 3,200 hotel rooms spread over two towers, plus multiple restaurants, retail options, a "top-tier" nightclub and "an innovative, next-generation gaming space."
Comments