Despite a slow start, the defending World Series champion Chicago Cubs remain +500 favorites to repeat this year according to oddsmakers. The Cubs have sputtered to a disappointing 18-19 start through the first six weeks of the season, putting them in fourth place in the National League Central. Chicago is 5-8 in May.
Odds courtesy of OddsShark.com
Many believe the Cubs will get back on track and still win the division, as they are currently looking for another starting pitcher to add to their rotation. The struggles of former ace Jake Arrieta (4-3, 5.44 ERA) and aging veteran John Lackey (3-3, 4.29) are real, and Chicago will likely need to add another arm to win the NL Central this year.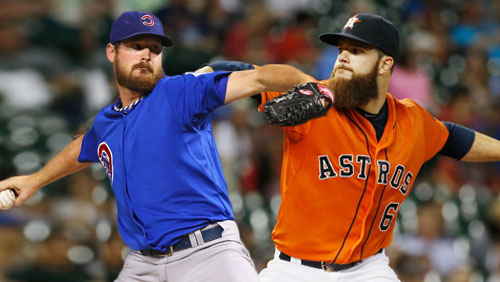 In the American League, the Houston Astros have proved to be the real deal up until this point of the season with baseball's best record at 27-12. The Astros are the +650 second choice to win the World Series right now and are tied with the defending AL champion Cleveland Indians at +350 to win the pennant.
Led by 2015 AL Cy Young Award winner Dallas Keuchel (6-0, 1.69), the Astros have an eight-game lead over the Texas Rangers and Los Angeles Angels in the AL West. The Rangers and Angels both have losing records but have combined to win the last three division titles and are listed at +3300 and +7500 to win the World Series, respectively.
Like the Cubs, the Indians have also gotten off to a slow start at 20-17, but they have won two straight to pull within a half-game of the AL Central-leading Minnesota Twins. Cleveland is +700 to win the World Series, just ahead of the Boston Red Sox and Washington Nationals at +800.
The Red Sox trail the Baltimore Orioles (+2200 to win the World Series) and the surprising New York Yankees (+1100) in the AL East.
The Nationals own the best mark in the NL at 24-13 and might be the biggest threat to Chicago's chances of winning another pennant. Washington's Bryce Harper is playing like an MVP again, as he and teammate Ryan Zimmerman lead the league in hitting.
The Colorado Rockies are another surprise, leading the NL West over the Los Angeles Dodgers. The Rockies are two games ahead of the Dodgers heading into Tuesday's action and +1800 to win the World Series. Los Angeles is listed at +900.
Comments