David Johnson and Scott Dawson transition within NYX Gaming Group
April 2017 (LAS VEGAS, USA) NYX Gaming Group (TSX-V: NYX), the market-leading end-to-end supplier and technology provider, has strengthened its in-house content studio NextGen Gaming with the senior appointments of David Johnson as Chief Commercial Officer and Scott Dawson as Chief Operations Officer.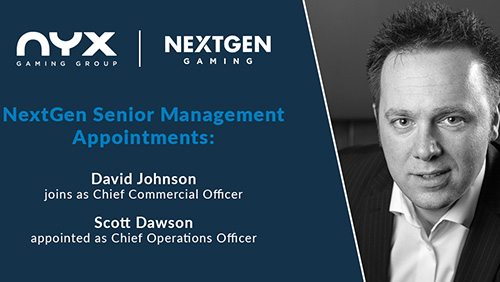 Johnson re-joins NextGen Gaming after 4 years with NYX Gaming Group where he was most recently VP Casino Sales; Dawson transitions from his former GM Content Delivery position. Completing the senior team, NextGen Gaming co-founder Scott Smith remains CEO.
Commenting on his new role, Johnson said: "I'm delighted to be back with NextGen Gaming having previously enjoyed a hugely rewarding time where we pioneered some of the industry's most successful slots, prior to the inception of NYX Gaming Group. We have a number of compelling new game concepts under development, some attractive partner engagement plans and the advent of new technologies to enable partner suppliers optimal speed to market and ease of deployment."
Matt Davey, CEO of NYX Gaming Group added: "Dave and Scott provide a wealth of expertise and experience to the business and reaffirm NextGen's focus on delivering high quality content and building successful partnerships with new and existing clients."
For more information about NYX Gaming Group, please contact:
Olivia Gillibrand
Head of Group Media Relations
+44 (0)7701 037513
olivia.gillibrand@openbet.com
About NYX Gaming Group Limited 
NYX Gaming Group Limited is a leading digital gaming provider, headquartered in Las Vegas, USA, with a staff of more than 1000 employees globally. NYX delivers value by adhering to the highest standards of customer service, probity and responsibility.
It has one of the broadest distribution bases in the industry, with over 200 unique customers.
The award-winning NYX OGS™ (Open Gaming System), which allows licensees to leverage the best-of-breed, multi-vendor casino content from around the world, is acknowledged to be the industry's market-leading gaming offering. From its own studios and a broad partner network of the most innovative third party suppliers, NYX offers customers the widest portfolio of content available, with access to over 2000 game titles, via OGS™.
In addition, NYX's award winning sports betting division OpenBet is utilized and trusted by leading sports book operators, with its scale and performance world-renowned. In 2016, the OpenBet sportsbook processed more than two billion bets and broke new records at the 2017 Grand National, where it processed 68,000 bets-per-minute.
Sydney based group studio NextGen Gaming create and deliver exceptional slot games with proven performance and game longevity for partners and players. Founded in 1999, NextGen Gaming pioneered platform-independent content delivery and were recent recipients of the Digital Gaming Innovation award for slot 'Witch Pickings' at the Global Gaming Awards.
NYX Gaming Group Limited is listed on the TSX Venture Exchange under the symbol TSXV: NYX.
For more information about the group visit:www.nyxgaminggroup.com
Comments