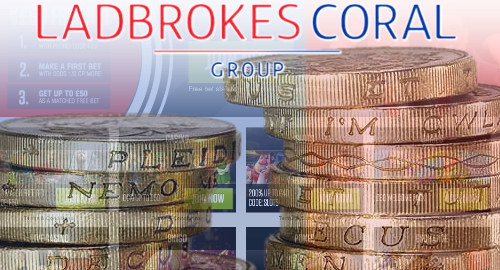 UK-listed betting operator Ladbrokes Coral enjoyed double-digit revenue growth in 2016, boosted by the newly merged entity's digital and European retail operations.
Figures released Tuesday show Ladbrokes Coral's statutory group revenue hitting £1.5b in 2016, while earnings came in just under £199m. However, costs associated with the merger of the two betting giants resulted in an operating loss of £202.4m.
Year-on-year comparisons are tricky, given that the merger of Ladbrokes and Gala Coral Group wasn't official until last November and competition concerns required the companies to sell off 360 retail betting shops. But pro forma revenue improved 11% to £2.35b, earnings rose 14% to £380.7m and the company booked a 22% rise in operating profit to £264.3m.
Digital operations – comprising Ladbrokes.com, Coral.co.uk, Galabingo.com, Galacasino.com, Ladbrokes.com.au, Eurobet.it, Ladbrokes.be and Sportium.es – reported pro forma revenue up one-third to a devilish £666.2m while costs decreased by more than one-quarter. The company says it now controls 12% of the UK online market.
Online sports betting revenue surged 51% to £310m while online gaming gained more than one-fifth to £356.2m. Mobile continues to be the dominant sports channel, accounting for 79% of Ladbrokes.com stakes and 74% at Coral's UK site.
Multi-channel products continue to drive online numbers, with Connect customers contributing 50% of Coral UK sportsbook revenue. In Italy, Eurobet retail products accounted for 35% of Eurobet.it first time depositors.
UK retail revenue rose 2% to £1.43b as a 4% rise in machine gaming revenue helped offset flat OTC wagering. The picture was brighter on the continent, where retail revenue improved 24% to £212m thanks to good gains in Belgium, Italy and Spain, while Irish operations lagged due to 2015's shop closures.
Ladbrokes Coral is the unquestioned UK retail betting leader with a 41% market share, making the company keenly interested in the outcome of the UK government's Triennial Review, which is expected to include further curbs on the gaming machines that contributed 56% of 2016's UK retail revenue.
Ladbrokes Coral CEO Jim Mullen described 2016's results as "a very successful start" following the merger, which he called "the start of a journey." Mullen said the integration of the two brands was proceeding apace, with expected cost savings of £35m in 2017, £90m by 2018 and £100m annually by 2019.
Trading to date in 2017 has seen "mixed" sports results, resulting in UK retail and digital sportsbook margins ahead by one percentage point, while punter-friendly results in Italy pushed Eurobet retail margins down 14 points and Eurobet.it down four points. Group revenue is 2% ahead of the same period last year, driven by a 20% gain in digital operations (34% sports, 8% gaming).