Based on the "Leisure Suit Larry" saga, great entertainment is guaranteed by this ingenious online casino concept.
The iconic "Leisure Suit Larry" video game series has been a treasured part of the playlist for most gamers who have been coming of age in the last three decades to enjoy Larry Laffer's clumsy and
tacky adventures in the pursuit of love and happiness.
Larry is launching a new online casino – powered by Gaming Innovation Group's (GIG) platform service provider iGaming Cloud and quite unlike anything that has ever been there before.
Combining great games and features based around new Larry Laffer adventure.
"LarryCasino.com features a selection of the best slot machines, casino games and live casino play – all based around a new Larry Laffer adventure and available for all devices, including  desktops," explains iGaming entrepreneur and co-owner David Fernandez this new casino experience in a nutshell.
It is on you, the player, to help Larry with finding all missing objects – only then will you move up through the levels of LarryCasino.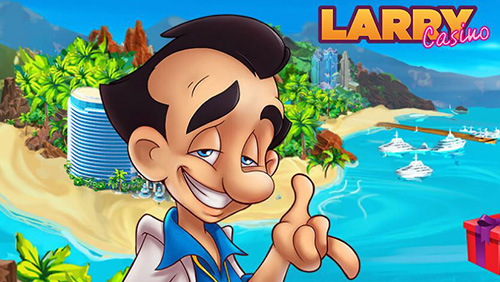 iGC MD Ben Clemes: A great vision expertly realized with support of iGC technology
Naked Island is the name of the presumably Caribbean resort, where all the fun and action unfolds. Explore a world full of interesting characters, levels, surprise boxes, Larry's exclusive roulette wheels, and much more.
Ben Clemes, Managing Director of iGaming Cloud (https://igamingcloud.com) comments: "LarryCasino and its fully gamified experience is a testament to the creative vision of its owners, and
simultaneously shows the diversification of what can be achieved using technologies supported by iGaming Cloud (iGC). All of us at iGC are very excited to see 'Leisure Suit Larry' come to life in this amazing casino experience."
Worlds of gaming and gambling unite creating unique user experience
It's on Larry to complete the level every time a player recovers a missing object. The player collects coins which subsequently can be traded in The Shop.
"Another noteworthy feature is the JokeBox®, a mystery box that players get to choose each time they log into LarryCasino. For the first time ever, the worlds of gaming and gambling unite to create a unique player experience," offers co-owner, Enric Monton, further insight into this shared vision come true.
"Millions of gamers enjoy the adventures of Leisure Suit Larry – we sought to keep the essence of the original series but pair it with cutting-edge gaming technology to create a totally new way of
experiencing casino games," conclude the games' creators.
LarryCasino.com is licensed by the Malta Gaming Authority and by the UK Gambling Commission.
About Leisure Suit Larry: "Leisure Suit Larry" is one of most influential games in video game industry history. Created by Al Lowe and launched in 1987 by Sierra Online, the saga consists of 9 episodes, and shows the attempts of its main character, Larry Laffer, a short, clumsy and tacky middle-aged man who tries to seduce attractive women way out of his league finding himself in hilarious and bizarre situations.
About iGaming Cloud: iGaming Cloud offers a comprehensive and cloud based ecosystem enabling and powering the gaming operations for casino and sports betting operators. The company operates as a subsidiary of Gaming Innovation Group Inc.
About GIG: Gaming Innovation Group Inc. is a fast emerging gambling solutions and interactive entertainment provider. The Company offers cutting-edge cloud-based services and B2B
performance marketing, and owns B2C gambling operators offering games from the best-of-breed suppliers across the online sports betting and casino industry. Gaming Innovation Group operates out of Malta and is listed on the Oslo Stock Exchange under the ticker symbol "GIG".
For more information about the Company and our services:
https://gaminginnovationgroup.com
https://igamingcloud.com
https://www.guts.com
https://www.betspin.com
https://www.rizk.com
https://www.thrills.com
https://www.kaboo.com
https://www.superlenny.com