The International Monetary Fund (IMF) has raised its economic growth forecast for Macau in 2017 despite a still fragile gambling industry.
In its 53-page report released on Wednesday, the international monetary lender has revised its outlook for Macau's growth upwards, from 0.2 percent to 2.8 percent on the back of large financial reserve that will serve a buffer against economic headwinds.
Data from the IMF shows that Macau's foreign exchange reserves were roughly US$19 billion after 15 years of double-digit current account surpluses. Its net assets reached 280% of GDP at the end of 2015.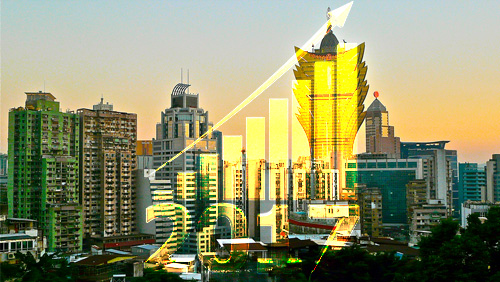 "Real output is expected to contract for a third consecutive year in 2016. However, external demand has begun to recover with gaming revenues posting six consecutive months of positive annual growth. In 2017, a low base will help increase growth above 2 percent despite continued weak domestic demand," the IMF said. "Further out, Macau… is well-positioned to record sustainable growth in the mid-single digits. In addition to its still highly valuable gaming monopoly within China, Macau… is an established tourist destination with significant geographic proximity to – and cultural affinity with – mainland China. Moreover, Macao SAR is now investing aggressively in non-gaming tourism and financial services."
A team from the IMF flew to Macau from November 3 to 14 and conducted a 12-day study on the economic situation in the former Portuguese enclave. The analysts conclude that Macau is in the stage of recovery, noting that the large financial reserve of China's Special Administrative Region, "will continue to support the MSAR to achieve its objectives for development of the economic model of the economy into a more modern and diversified model."
The IMF also praised the MSAR for having a stable and competent financial sector, a prudent supervisory mechanism, and financial stability indicators related to asset quality, strong liquidity and income.
The success of the system, according to IMF, is a result of the implementation of a number of necessary support policies – strong foreign exchange reserves, a flexible banking system with sufficient capital, prudent public financial policy and a flexible market in terms of human resources.
Macau still has the capacity to control the impacts of an economic downturn, as its rate of bad debt rate or overdue for more than 90 days remains at about 0.1% of loans and the tourism sector shows good performance, according to IMF.
Due to high taxes on the gaming sector – an effective rate of 39 percent on wagers – and "discipline on public spending," Macau had "zero gross public debt and fiscal reserves equal to 95 percent of GDP," said the fund.
Comments