Carnegie Mellon University is back to face the very best No Limit Hold'em Heads-Up players with a new and improved artificial intelligence called Libratus.

May 2015, four of the world's brightest No-Limit Hold'em Heads-Up experts beat Carnegie Mellon University's (CMU) artificial intelligence Claudico over 80,000 hands.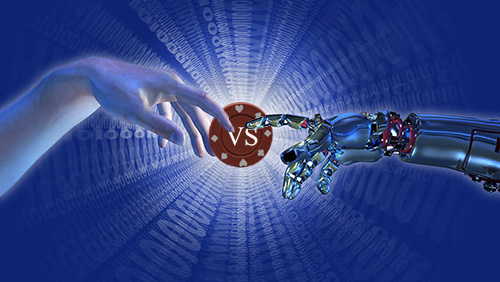 In the aftermath of the event, Sam Ganzfried, a member of the Claudico design team, predicted that they would lick their wounds, learn from the defeat and be back with a new program that would beat the pros within a year. That new program is called Libratus and the rematch dubbed Brains Vs. Artificial Intelligence: Upping The Ante begins at Pittsburgh's Rivers Casino Jan 11.
It's not only the AI that has had a facelift. The quartet of human players changes with Doug Polk and Bjorn Li making way for Daniel McAuley and Jimmy Chou (not the shoe guy). Both Jason Les and Dong Kim remain from the original team, and their experience will prove vital in this second match.
The humans won the last game by a profit margin of $723,713, over 80,000 hands, and with $170m on the table. The rematch will be an even longer grind with the competition lasting eight hours a day for 20-days stretched out over 120,000 hands. The winners of the contest will pick up a check for $200,000.
Will Bots and Humans One Day Play Together?
 There seems to be a unanimous feeling from both sides that it's inevitable that AI will one day beat the very best human poker players on the planet.
The machines have beaten the top players in Chess, Jeopardy! and Go, but poker is different because it's a game of incomplete information, making it even more complicated for an AI to beat a human.
During a recent interview on the Sam Harris Podcast Waking Up. Harris asked his guest Gary Kasparov to comment on his defeat against the chess AI Deep Blue in 1997. Kasparov responded by saying that the future of chess lies in a hybrid version where AI and humans compete together against other AI/human tag teams. With AI increasingly likely to beat people one day and bots becoming an ever increasing problem in online poker, the obvious question becomes: is it the right time for the game to evolve to include both humans and bots?
I reached out to Ryan Gittleson, the founder of Virtue Poker, to seek his opinion and this is what he had to say:
"I don't believe bots have a place in the online ecosystem, even unsuccessful bots. While poker is largely a game based on statistics with variance, there is also a distinctly human element to the game: emotion. With bots, you eliminate a core facet of the game and the part of the game that creates unpredictability.

 "Also, I think technological innovations in the realm of biometrics, and its integration into an online platform, can mitigate the rise of bots. If the platforms make it prohibitively expensive and time-consuming for bot creators to make a profit, I think they can be eradicated from the industry."

 Back to Kasparov and his interview, and he also mentioned his regret that IBM refused to allow Kasparov to face Deep Blue in a final match to determine the true champion (Kasparov had won Game 1 in 1996).
If Libratus does beat the humans this time around, let's hope CMU don't make the same mistake as IBM.
 CMU will stream Brains Vs. Artificial Intelligence: Upping The Ante live on Twitch.
Comments