This is a guest contribution by Julie Anderson of VegasMaster Magazine. If you would like to submit a contribution please contact Bill Beatty for submission details. Thank you.
Are Millennials Going to Change the Industry's Future?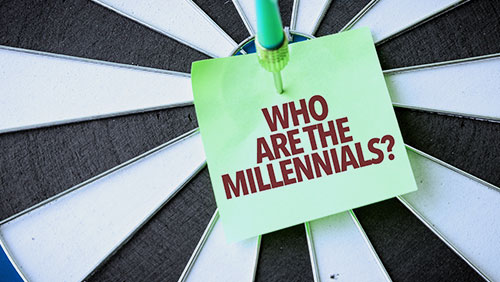 Those born between 1980 and 2000, also called millennials, are giving the gambling industry a tough time. Slot machines, the traditional favorites amongst gamblers of yesteryears, have failed to attract this new generation which seems to prefer playing games that require skill, and also make the most economic sense.
This has resulted in casinos across the country to experiment with payout models, to invent more variations with higher potential payoffs but lower odds, and many other strategies. But what exactly are the reasons for millennials to act differently, and how is it going to influence the future of the industry? Let's find out.
Reasons Behind the Shift of Attitude
•   Owing to the widespread and quick development of the gaming industry across the country in the past few years, smaller casinos have crept up in several neighborhoods. People once traveled to places like Vegas exclusively for the gambling experience, but with the increase in exposure, people don't perceive gambling as novel anymore.
•   The internet has enabled people to bet online in various forms – online poker, blackjack, slots, sports betting, etc. This means people can gamble whenever they want to, and from wherever they want to by simply downloading an app. Thus, visiting a casino may seem like unnecessary hard work.
•   Gamblers today have free access to several online tutorials and guides that can help them maximize their winnings. People are now aware of what subtle strategies casinos use to encourage losses, which games are the most profitable and which are simply sucker bets. This, obviously, has hurt the casinos.
•   Due to the widespread information boom, people now prefer to stick to games like poker, crabs, and blackjack where the house-edge is minimum, and skill has at least some role to play. Other options like slot machines, and big six, which were once successful at attracting gamblers mainly due to huge potential payoffs, are now decreasing in number steadily.
•   illennials have been found to enjoy nightclubs more than casinos. The share of gambling revenue in popular destinations like Las Vegas has been slowly declining, while nightclubs, lounges, and fancy restaurants have been enjoying increasing popularity.
Adapting to the New Times
Experts and industry insiders believe that the new casino floor for millennials will only slightly resemble the traditional one. Some interesting points to note are:
•   Slot machines and money wheels will slowly disappear. The new generation does not think it is a great idea to invest money in a game where all depends on luck.
•   These slot machines will be replaced by video game style gambling machines. Some machines of this type have already started to surface across many casinos.
•   Casinos have already begun to clear out slot machines to make more space for table games. To counter the low house-edge in some of these games like Blackjack, casinos are now offering new lucrative bets like the blackjack insurance bet.
•   Several casino brands have started seriously considering online gambling as a major source of revenue. They even hold frequent tournaments with attractive payouts to increase registrations and volume.
•   Casinos are also spending on incorporating lounges and restaurants that feature computed gambling stations that are equipped with glass holders. Such a setting makes it possible for people to enjoy their favorite drink, socialize, and gamble, all at the same time.
The Numbers behind the Facts
Many current problems being faced by the industry have already been mentioned in this article. However, it would be easier to understand the gravity of the situation by looking at the accompanying stats.
•   Millennials make up about 33% of the total population, the largest generation in the country. However, the average slot player in America is over 50 years of age.
•   In 1990, gambling accounted for 58% of the revenue of Las Vegas casinos and gambling resorts. By 2014, this share had come down to 37%.
Conclusion
To draw the new generation to indulge in gambling more often, casinos must market themselves as a place for growth and profit – a place where gamblers can develop and use their skills to win. As discussed, there are many ways to draw out gamblers – more gaming experience that offers people a chance to play smartly, or at least offers them the illusion of smart play is surely the need of the hour.
Julie Anderson is an editor for VegasMaster Magazine. Her main expertise is providing an inside look on brand operations and current business trends. You can find more of Julie's articles & news items here.