Robert Berglund has won the 2016 Battle of Malta as the PokerListings crew organise the largest live tournament ever held in the country. And Carl Carodenuto wins a record third Mid-States Poker Tour title in less than 12-months.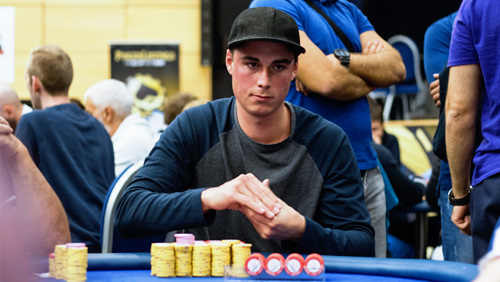 Who said poker is dying on its ass?
The 2016 Battle of Malta (BOM) is proof personified that preparation, perseverance and Pokerlistings style poker tournaments can still drag in the numbers like the good old days.
It turned out to be the biggest BOM in its short five-year history with 1,813 entrants creating a prize pool of close to €900,000. Day C alone attracted 883 participants, nearly triple the entire field of the inaugural BOM back in 2012.
The tournament didn't only set a new BOM record, 1,813 participants make it the largest field for a live tournament ever held on the tiny Maltese island. And that's not bad when you consider the World Poker Tour (WPT) and European Poker Tour (EPT) have held events at the same venue in the past.
The event, hosted by Global Poker League (GPL) LA Sunset Team Manager, Maria Ho, featured an array of recreational players, star professionals and celebrities alike.
2016 WSOP November Niner Fernando Pons competed as did his fellow Spaniard Leo Margets. Former PokerListings Spirit of Poker Awards winner, Luca Moschitta, was in attendance, as was one the most recent winners of a Spirit of Poker Awards, Konstantin Puchkov. GPL commentator Steven van Zadelhoff and Paris Aviators Team Manager Fabrice Soulier also competed.
Finnish DJ Amanda Harkimo, former Swedish goal stopper Magnus Hedman, and Finnish rap star Petter "Katastrophe" Kristiansen also competed in the €550 buy-in event that is surely the favourite to win a GPL European Poker Award for this amazing accomplishment.
179 players cashed with Robert Berglund picking up the €160,000 first prize after entering the event via a special 'Friends' package with his buddy Rasmus Eriksson who incredibly finished in third for €67,000. Irishman John Finnegan finished runner-up for €110,000.
Here are the full final table results.
2016 BOM Final Table Results
1. Robert Berglund – €160,000
2. John Finnegan – €110,000
3. Rasmus Eriksson – €67,000
4. Gonzalo Pro Fernandez – €56,000
5. Lawrence Brandt – €46,500
6. Flaviano Cammisuli – #37,500
7. Robert Sverre Eik – €29,000
8. Giorgio Ligasacchi – €21,400
9. Jonas Hahnert – €14,540
Carl Carodenuto Makes MSPT History
Sticking with the record breaking theme and Carl Carodenuto has become the first player in Mid-States Poker Tour (MSPT) history to win three Main Event titles in less than a year.
Carodenuto, who defeated 470 entrants to win the $116,103 first prize at the MSPT Canterbury Park Main Event in December, successfully defended his title when he defeated 376 participants to capture the $90,805 first prize at the same venue.
He then made the final table of the MSPT Main Event in Meskwaki, finishing 6/405, and wasn't even going to make the trip to Colorado for the latest game until his friend Richard Alsup talked him into it after noticing the pair were tied fourth in the MSPT Player of the Year (POY) race. Incredibly, the pair battled through 490 players to reach heads-up where Carodenuto defeated his friend to win his third title and leap to the top of the POY charts with only two fixtures remaining.
MSPT Colorado Final Table Results
1. Carl Carodenuto – $114,072
2. Richard Alsup – $68,919
3. Josh Turner – $44,916
4. Norman Straughn – $31,132
5. Adam Wilbur – $23,765
6. Brian Gallegos – $18,291
7. Bobby Garcia – $15,210
8. Alex Greenblatt – $12,595
9. Jackson McAllister – $10,647
10. Kai Wang – $8,080