This is a guest contribution by Martina Danelaite. She leads the content teams of DroidSlots and MobileSlots4U affiliate sites, plus a handful of online casino and bingo brands too. If you would like to submit a contribution please contact Bill Beatty for submission details. Thank you.
No means no – direct marketing calls, that is. Cast your mind back to the last time you were called by someone offering you a 'good deal' on insurance or asking you to complete a 'quick lifestyle survey' when you were in the middle of doing something. Chances are you were annoyed, perhaps even felt that your privacy has been violated. Worse still, you were perhaps too polite to hang up or ask that no more calls would be made to your number, meaning you're stuck with being rung up at the whim of these companies. When the tables are turned and you are the one deciding whether you should make cold calling part of your casino marketing strategy, you should remember that this technique is something people love to hate. Actually, cold calling in the gambling industry is gambling in itself: will you ring someone who would welcome that free bonus or will they be looking for the very first way out of the awkward conversation? And that's assuming they haven't blocked out nuisance calls through third party software or by simply not picking up a call from an unknown number in the first place. All things considered, it's a paper-thin line to walk between a marketing calling being deemed a pain or a delight. So we've taken it upon ourselves to determine what the best practises of cold calling in the online gambling industry should be. A cautionary tale Let's start our investigation into cold calling with James from North Yorkshire in the United Kingdom, who shared his story with us:
"Going about my Saturday on a hot summer day, I had to run inside to get to the home phone in the kitchen. My girlfriend was making lunch, so I answered the call and it was a guy calling from this online casino I've used to place sports bets on over two years ago. The rep was offering me some exclusive deal that didn't sound too great and I wasn't interested. But he kept going on and on – there was no end to it. Finally, when I got rid of him, I immediately logged into that casino and closed my account. Needless to say, I also had a lot of explaining to do because my girlfriend didn't know I gamble online!"
Every action has an equal and opposite reaction, or so it seems in James' case and in many ways, his story is a typical one. Regardless of what academic studies or sales professionals say, cold calling puts the majority of people off because it's based on refined deceit and usually a high pressure to act too. And it doesn't take a genius to realise that this creates uncomfortable tension, leading to opposition rather than your potential players taking you up on your offer. In other words, there is a huge chance that your prospects place your cold call on par with the marriage proposals they get from Nigerian princes and the deals on incredibly cheap and 'definitely genuine' Viagra. Not great, especially since the people can't get rid of the phone call as quickly as they can trash the email, leading to more frustration.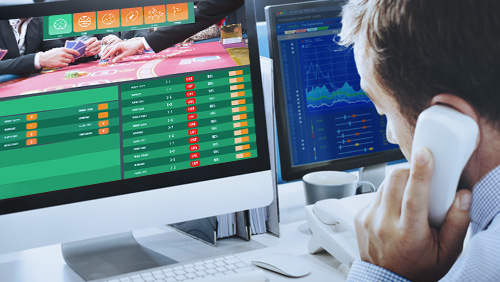 So is there ever a time when cold calling is effective? Sales experts around the world would certainly say so – if executed correctly, marketing calls can help you achieve your business goals. However, vigorous research and professional training are needed to ensure that your call is tailored specifically to the person who is being called up, and even if they don't follow through, at least they're not alienated. The problem with problem gamblers Getting cold calling right is especially important in the gambling industry, as operators must be socially responsible to obtain and retain their licences. Although James luckily isn't a problem gambler, and had simply abandoned this specific casino to place sensible bets elsewhere, a cold call must be the worst thing that can happen to a problem gambler. Receiving an unexpected call where a free bonus is offered could tempt a problem gambler to register at the site and wager money they cannot afford to lose. Similarly, a player at risk of problem gambling could have purposefully abandoned their account, fearing that their gambling would spiral out of control – a cold call could trigger them coming back to it and possibly developing a full-blown gambling addiction. Of course, these are the worst case scenarios and a good way to prevent them would be for the players to opt-out of receiving marketing materials or to wholly self-exclude from all the gambling sites. While in theory this should stop all marketing communication from casinos, in practise not all casinos honour the Privacy and Electronic Communications Regulations (PECR). They are set out by Information Commissioner's Office (ICO), and within PECR, direct marketing calls can be reported as 'nuisance calls' if they unsolicited, predatory or overly aggressive. Needless to say, companies engaging in such tactics can be easily punished. Furthermore, the UK Gambling Commission (UKGC) also work closely with ICO and can get involved. As James Cook, the corporate affairs officer at UKGC, explained: "We expect operators to comply with the law, both in the UK and in other jurisdictions in which they operate. Failure to meet this expectation may raise questions about the continuing suitability of licence holders. We work closely with the ICO, and if one of our licensed operators was considered by them to be in serious or repeated breach of PECR, we would consider regulatory action." Best practise for cold calls Toeing the line of social responsibility and making sure that all direct communication complies with PECR and the Licence Conditions and Codes of Practise (LCCP) of the UKGC is a tall order. Yet, if after all the management of an online casino is still inclined to make cold calling part of their marketing strategy, we'd recommend they commit to the following six points to remain socially responsible and achieve the best results:
1. Strictly opt-in service only
As we said, no means no. In order to avoid all frustration and anger, make your cold calls an opt-in service. You can include a tick-box in the registration form or in the account settings, but don't sneakily auto-check it and incentivise players to tick it instead. Trust the players to log into your casino when they want to – if they found it the first time, they will find it again, so concentrate on providing them with a top-notch service instead.
2. Triple check they haven't self-excluded
We can't emphasise this enough, thus the 'triple.' Catherine Sweet from GamCare, a charity that operates the National Gambling Helpline in the UK, explains it best: "For someone at risk or someone struggling to control their gambling, receiving communications once they have opted-out from these may prove very challenging. Sensitivity to customers who may be at risk is strongly advised and if a customer has requested no further contact in this way, this should be honoured."
3. Determine the best time to call
If you definitely don't want someone's business anymore, make sure to give them a phone call in the middle of the night on a weekday. That'll do it! In all seriousness though, figure out what the best time to call someone via email or account messaging and remember to check time zones too.
4. Ask which number they'd like to be reached on
Some people prefer to be called at home, especially if they don't want to be contacted while at work. Meanwhile, others will rather be called on their mobile if they have an unsuspecting partner. Do the easy thing – simply ask what number works best for them during the opt-in procedure, to ensure their privacy is respected.
5. Offer something exclusive
We hope that this goes without saying, but we'll spell it out anyway. In order for your calling strategy to be successful and yield results, you must present an attractive offer. Think of something tailored specifically to their needs and something they can't find anywhere else. If they haven't been around your site for years, you can rest assured a deposit bonus just won't cut it.
6. Be respectful and totally professional
Gambling is an industry where privacy and respect are paramount, so training your marketing staff to be professional is very important. Remember, many players have spouses who they'd rather not know of their hobby. Plus, while some might not mind receiving an occasional call, don't ring them up every week to check in on things. Keep your distance, stay respectful, and chances are the players will be warmed up to your offer next time you call.
Every online gambling company should think long and hard if it's worth potentially alienating their customers who've dropped off the radar by pestering them with a phone call. Even the possible new players that they call up would most likely just become annoyed and make a mental note to never join.  However, if certain good practise criteria are adhered to, cold calling can be a viable way to market online gambling services. In the end, it's a decision that the marketing team has to make – it's a hard call.
About the author:
Martina Danelaite leads the content teams of DroidSlots and MobileSlots4U affiliate sites, plus a handful of online casino and bingo brands too. Focusing on meaningful news, site reviews and in-depth analysis, the aim of these sites is to give readers an edge when it comes to remote gambling. All questions and queries are welcome at [email protected].