This is a guest contribution by Matt Harris, Head of Content at 90Digital.com. If you would like to submit a contribution please contact Bill Beatty for submission details. Thank you.
Cricket's first ever day / night test match was played between Australia and New Zealand in November 2015 and a quick glance at the scorecard would indicate a mixed beginning for the pink ball.
The game was over inside three days and the match stats tend to confirm a difficult time for the batsmen as the bowlers got the unripe 'cherry' to hoop around the Adelaide Oval. 821 runs were scored with the loss of 37 wickets and that's an average at just over 22 runs per dismissal.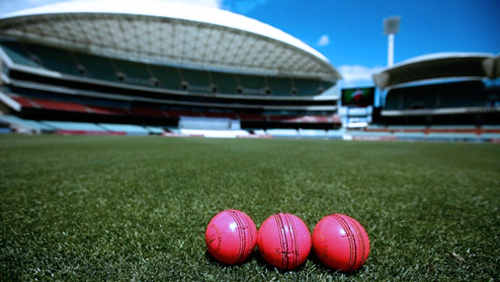 At the same time, individual batting stats were nothing to get excited about. There were just three half centuries in four innings while Peter Nevill's 66 was the lowest top score ever in an Adelaide test.
It hardly seems like a blueprint for test cricket's future but day night matches have received widespread approval, even in the immediate aftermath of this low-scoring encounter.
Bright days ahead
Peter Nevill aside, batters would have seen a small dent in their averages following this Adelaide test but here's a more positive figure. Across three days (and nights) of cricket, 123,736 packed into the Oval with strong TV viewing numbers in Australia and beyond and that is the real key to the appeal of the pink ball.
In that respect at least, both captains agreed that the game had been a huge success.
"The whole Test match was a great innovation, it was a great spectacle," said Australia's Steve Smith. "To get 120,000 people through the gates in three days is absolutely amazing. I thought it was a great spectacle and a great Test match."
Kiwi skipper Brendon McCullum added, "It's a great concept. As pink ball cricket evolves as I am sure it will grow into a global game."
Cautious approach
Leaving aside the issue of day / night test cricket as a spectacle, how did the betting community welcome the new dusk?
The two games leading up to this match had been high scoring affairs – Australia winning in Brisbane after posting a first innings 556 before a draw in Perth where the hosts' 559 was exceeded by the Kiwis' marathon 624.
Meanwhile, the usual suspects had dominated the top batsman betting: Williamson and Taylor for New Zealand plus Warner and Khawaja for Australia. Top batsman is a popular market but Peter Nevill would not have been a popular pick. In 19 test innings at the time of writing, that 66 remains his highest score in an underwhelming batting average at a fraction above 20.
However, as William Hill point out, there is a factor in day / night cricket which may make the lower order batters a more attractive option, albeit at a shorter price.
"If a team is faced with batting under lights then batsman coming in 5-6 would end up being shorter as they are likely to be in when the lights take full effect," said Rupert Adams.   "You may also see earlier declarations to take advantage of these conditions as well."
But that will certainly lead to confused thinking, certainly with an ante post bet and that's why Hills expect there to be a slight uplift in trading.
"You might see that the way the game is traded will be slightly different.  For example, because the pink ball does more under lights, you will find the bowling team are likely to be popular as the lights take effect," Rupert Adams added.
It's a logical conclusion to draw on, particularly if the lights are having such an effect on all aspects of the game. Who can bet, pre-match with any confidence if they can only guess at when a team or one specific batsman will be at the crease?
Lies and Statistics
There is a general perception that the pink ball favours the bowlers too much and we'll see more games ending inside three days. However, a list of pink ball firsts suggests that the contest between bat and ball may be far more even than we suspect.
The West Indies broke this particular ground in the first weeks of 2010 as the first pink ball delivery in a first class game was sent down by Guyana's Esuan Crandon. Trinidad and Tobago's Lendl Simmons faced it did more than survive as he compiled 107 in a T&T total of 416.
Guyana made a modest 273 in return but over four days, the match was drawn with 33 wickets falling at an average of just under 35 runs per dismissal.
Back in England, where you may feel that the pink ball would have the propensity to move around corners, Kent and Glamorgan provided the guinea pigs, and a few assorted rabbits, in September 2011. The Welsh side eased to a comfortable eight wicket win but there were seven half centuries between the two sides plus a match winning 147 from Stewart Walters who would have been seeing it like a giant pink beach ball.
Similar games have been played out across the world and while there have been some notable dissenting voices, they are mainly in the minority. The contrast comes from South Africa where only one day / night, four day match has been played so far. The ball was changed five times in the space of one, 112 over innings and it's fair to say that the country hasn't been quick to embrace the concept since.
Despite these stats, William Hill's overall view suggests that the inaugural day night test in Adelaide may have set something of a standard precedent.
"The draw price will increase for these games," Rupert Adams added. "I think the Australia v New Zealand game went off about 8/1-9/1 last year. % of draws in tests have actually increased slightly in the last couple of years based more on test matches being played in unseasonal conditions in Sri Lanka & West Indies."
"The recent test match in South Africa was the earliest a test match has been held in the country by 6 weeks.  These changes in the calendar have affected the draw prices recently. However unless weather intervenes I would be surprised to see a draw in a 5 day pink ball test match."
Hesitant to change
Talk of a day / night test in England has stalled recently after the ECB accepted that they could not trial the pink ball in the final round of 2016 County Championship matches. This could be bad news for Warwickshire in particular who had hoped to be the country's groundbreakers after a largely successful trial in a second XI game back in August.
"We like being involved in innovation here at Edgbaston," said Warwickshire Chief Executive Neil Snowball. "We hosted the first county day-night game in 1997 and we are very keen to support further trials with the ECB.
"With an Investec Test match due to be staged in Birmingham each year up until at least 2019, we would love to be the first venue in England and Wales to host an international in day/night conditions with a pink ball. We have outstanding floodlights and facilities for players, match officials, the media and spectators, and we obviously want to support anything that makes Test cricket more accessible to supporters."
As for the bookies, they wouldn't necessarily welcome a step into the unknown but accept that the shift to day / night matches is inevitable.
"Unfortunately our view is that this is the way Test cricket needs to go to survive," Rupert Adams concluded. "Crowds are continually good for England, Australia & South Africa games, but a number of countries now play Tests in front of less than 1-2k per day."
As for formulating a pink-ball betting strategy, the effect of lights and the lack of relevant stats suggest that the trade is surely the option as we approach one of the biggest innovations in nearly 140 years of test match cricket.
About the author:
Matt Harris is Head of Content at 90Digital.com and a freelance sports writer who contributes regularly to betting.betfair.com.
Comments