Will Japanese gaming mogul Kazuo Okada's multi-billion dollar integrated resort complex in Manila's Entertainment City be enough to launch a thousand cruise ships?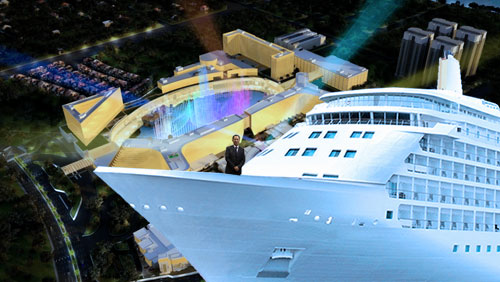 Tiger Resort, Leisure and Entertainment Inc. is mulling on building an exclusive port along the coast of its integrated resort complex Okada Manila in order to accommodate visiting luxury cruise liners in the future, according to the Manila Times.
The report quoted Lorenz Manalang, executive director for public relations of Tiger Resorts, who said that the casino operator are now in talks with cruise liners to consider Manila as one of their destinations.
He pointed out that a port in Entertainment City could bolster the luxury tourism of the Philippines. For now, Manalang said they got positive feedback from luxury cruise ship operators.
"Cruise liners are very interested in the Philippines… When we did a courtesy call, we were already being called by the cruise liners," Manalang told reporters last week. "They wanted (to come to) the Philippines. But the cruise liners can't enter here because we don't have the proper facilities."
Without going into details, Manalang said the group is currently working on the design of a port that has the capacity to accommodate "small to 50-footer yachts" and several cruise ships. The plan was part of Okada Manila's Phase 2 development, which also include a budget family hotel, retail malls, the port, and negotiations or partnership with several cruise liners.
The caveat, however, was the plan is dependent on how Okada Manila Phase 1 will perform when it opens in December this year. The group group is moving toward Phase 2 development, which is "mostly retail," while capping off their Phase 1 offerings. Phase 3 and 4 are still "conceptual" as of the moment.
"In fact, the chairman is already buying two to three seaplanes now, all because he believes in the future of Philippine tourism," Manalang said. "All of those (plans for Phase 2) are projections, all are on the table, but nothing is final yet."
Meanwhile, Tiger Resort president Steve Wolstenholme has expressed optimism that the integrated resort, with its world class features and diverse entertainment facilities, would seek to attract both local and international travelers to look at Manila as a destination of choice for tourism and entertainment.
"We look at our resort as an opportunity for us to work to really promote the destination… We want people to see Manila as a choice destination," Wolstenholme said.
Wolstenholme said Kazuo Okada, the company's chairman, is also looking into other avenues to support and promote the country's tourism industry. For one, the Okada group has already expressed its willingness to sponsor the Miss Universe pageant in January 2017.
Okada Manila is the third of four integrated resorts and casino hubs rising at the Philippine Gaming and Amusement Corporation's (Pagcor) Entertainment City. The other two complexes already operating therein are Enrique Razon's Solaire & Resort Casino and SM Group's City of Dreams Manila, while the Andrew Tan group is also building the fourth integrated hub, Westside City.