This is a guest contribution by Cliff Fontenot, senior editor at Monarch Media. If you would like to submit a contribution please contact Bill Beatty for submission details. Thank you.
The advances in virtual reality gaming over the past couple of years have been incredible. It seems that there isn't an industry out there that doesn't want to get involved with this new technology, including casinos, but the big question is…how will virtual reality fit into gaming?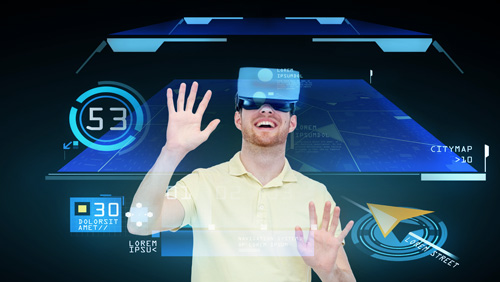 First off, gaming is all about the emotional and physiological experiences of the players. At a land-based casino, this can often mean the thrill of the blackjack or craps tables, but it's been suggested that virtual reality will easily replicate this because of its use of sensory stimuli.  With VR technology, players are able to experience actually walking into the casino lobby, being greeted by a hostess, and being led onto the gaming floor.  It could, in fact, take the physical gaming experience to a whole new level. This alone, opens up a whole new dimension for gaming and demonstrates why VR devices are some of the most exciting wearable technologies for 2016 and beyond.
Microgaming Is the First Gambling Software Provider to Incorporate VR Technology
The advances in virtual reality gaming were showcased at ICE Totally Gaming, Europe's premier gambling conference, in February 2016, and the products on display demonstrated just how powerful virtual reality gambling can be. Microgaming proved they were leading the way with their award-winning VR roulette game. This software provider believes that virtual reality is here to stay and they have already started developing some amazing products that could very well change the way casino games are played in the near future.
Neil White, Head of Product Channels at Microgaming, said, "We were the first to embrace the mobile revolution and we are now predicting that the next is virtual reality. We are going to make sure that we will be part of that wave." He also went on to say that Microgaming has experimented with augmented reality and that they have seen how that can be used for marketing and promotions. To sum up, White said, "We created our virtual reality product to understand the potential of 3D technology and, as a result, we've taken the Oculus Rift with the Leap Motion product to create an immersive world where players can play roulette."
A virtual Reality technician at Microgaming's CRYO Lab said, "Over the past few years, we have been looking at a variety of different technologies. We have been tracking Google, Microsoft, and other industry leaders to see what they are doing with this technology, and we are pleased to see that they are following suit in the same direction that we are heading."
Microgaming has not currently set a release date for their VR Roulette, but it will likely be 2017 before it's available to the public.
Other Software Providers Considering Virtual Reality in Gaming
While Microgaming has been the first software developer to lead the way for VR casino games, there are currently a number of others taking an interest as well.
Lucky VR is a company that develops immersive virtual reality experiences, specializing in casino gaming content, taking traditional casino games and making them into engaging virtual reality applications. At ICE 2016, they presented a voice-recognition-controlled blackjack demo on the Oculus Rift DK2 headset, and confirmed that the company is working on developing VR slots as well.
Topgame Technology is another company getting in on the virtual reality action, and they presented a VR slots game at ICE 2016. Players who were able to test it out were treated to a bonus feature that had them breaking out of the VR casino through a window and ending up on a rollercoaster. This is very different from the "pick 'em" bonus rounds that are on regular 2D screens!
Yet another company that has been exploring virtual reality technology is NetEnt. At ICE 2016, they showcased how this technology can influence the face of online gaming, inviting players to actually enter a game and experience their Jack and the Beanstalk slot from inside Jack's world. NetEnt has been a leader in online gaming since their inception 20 years ago. With their continued expansive growth, it will be interesting to see the innovative immersive games that they continue to develop and bring to life.
How Does Virtual Reality Gaming Work in Casinos
Oculus VR, a virtual reality technology company, has worked for a long time to develop a virtual reality casino.  With their Oculus Rift headset, players are able to black out their surrounding environment when putting the device over their eyes, allowing them to interact using either a game controller or their hands. The layout of the casino in the headset appears as a normal, land-based casino, and players can walk forward and around by using the game controller. Once they choose a table, they sit down just as they would in a real casino.
Virtual reality casinos are still in their early stages, and games are continuously being tested and improved upon.  For example, Sphinx 3D by GTECH has designed a three-dimensional screen that is glass-free and boasts a virtual wheel that can be spun simply by the movement of your head. Google Glass is also building a feature called "Glass Betting" for real-money gambling.
Oculus VR was bought for $2 billion by Facebook in 2014 and a lot of money has been put into the development of their Oculus Rift headset system to make it successful and very enjoyable for online gamers. It's only a matter of time before their development moves to the next level, allowing players to interact with each other and the dealers in real time, inside the casino, just as they would in reality.
The First VR Casino and Poker Room
The first virtual reality casino ever launched is SlotsMillion, which features a lobby in the clouds on the 80th floor of a skyscraper, based in a futuristic cityscape. Players are able to go to the bar, play a number of immersive 3D slots games, interact with other players, and experience real vertigo should they choose to lean against the windows and look down.  They can play all games as if they were in real-life casinos, simply by using an Oculus Rift VR headset, and they can play for real money, enjoying their own private casino rooms with more than 40 of the most popular games.
Another new development is a virtual reality poker application, which was conceptualized by the partnership between OBXNet and Marco Kobelt. This Casino VR Poker App is the first of its kind and allows players to experience a fully-functional, multi-player poker game that is rendered in completely immersive virtual reality. With the right hardware, players will become avatars that can interact with each other in the game using head-tracking and spatial-voice chat. Casino VR's Gear VR App is currently available and is cross-compatible with Oculus Rift. It is also entering the mobile VR arena with the help of SideloadVR, an app that allows players to download and share content without going through the Oculus Store.
Virtual Reality Growth in other Sectors
Advances in virtual reality gaming have seen people able to climb Mount Everest, swim with whales, explore underwater shipwrecks, and even take part in horse races, all from the comfort of a screen. This is truly just the beginning as the technology is constantly expanding.
Facebook recently invested billions of dollars into the purchase of Oculus VR, and they have been working hard on programming a unique experience that feels like the player is being teleported from one virtual experience to another. This is an attempt to create the real life feeling of using a teleporter. Other promises for virtual reality include allowing people to visit different parts of the world and see things they might never get to see otherwise.
The emergence of digital skills gaming with prizes could also become a whole new product for the virtual reality gaming industry. These types of games have the potential to be very powerful, especially with the addition of virtual reality. Imagine a bonus round where players have to shoot as many zombies as they can to win cash prizes. This would be a combination of skill and chance, and it could see regulators in a spin. The Malta Gaming Authority is also looking at implementing a specific regulatory framework for these types of games. They could very well prove to be a very profitable gambling product for this industry.
Virtual Reality Gaming Possibilities
Virtual reality intensifies the senses, immersing players in an entirely new world where they can experience a completely different existence, all with stunning graphics and 3D-binaural audio. The exciting rush that is experienced while playing the slots as the reels stop to create a winning combination can be dramatically enhanced with subtle lighting changes, sound effects, and imagery, all made possible with VR technology. These current advances demonstrate that players only need a VR headset, some sort of keyboard or controller, and possibly some biofeedback or wearable technology to ensure that their experience is as real as it can be.
Biofeedback monitors bodily function with sensors to help players gain voluntary control. Game developers are taking advantage of this by developing games that can sense a player's fear and adjust the play accordingly. In online gambling, players want a real experience, and in order to obtain it, they need to react to their surroundings. This is where biofeedback comes into play. Nevermind was one of the first virtual reality games to use biofeedback and it is able to detect changes in a player's physical state and then adapt to them. The technology is still in the infant phase, but it provides a clear direction for developers. In the coming years, we will see more and more games being introduced.
The opportunities for developing virtual reality casinos seem endless, however, the odds of VR gambling becoming mainstream overnight are undoubtedly low. Expect that VR technology in online casinos will be a small niche for years to come – it could be a segment that may never reach its potential. No matter what developments come out of this new gaming era, the future for virtual reality online casinos is sure to be an interesting one.
About the author:
Cliff Fontenot is the senior editor at Monarch Media and writes for Grizzly Gambling among other gambling news sites. The best way to get in touch with him is journalisted.