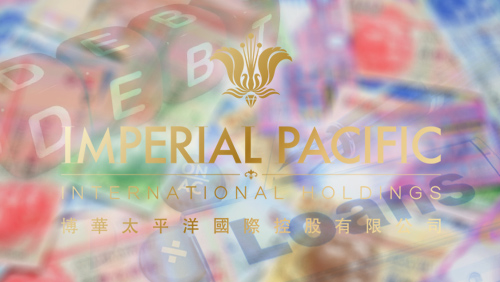 Casino operator Imperial Pacific International Holdings, Ltd. is set to issue one billion shares worth HK$150 million (US$18.7 million) meant to cover outstanding loan obligations.
In a disclosure to the HongKong Stock Exchange on Monday, Imperial Pacific announced that Ally High Limited will subscribed for the one billion shares at a price of HK$0.15 (US$0.02) per share. Imperial Pacific is optimistic that the market value of its shares will fetch up to HK$142 million (US$18.30 million) on the last trading day.
"The consideration in the aggregate sum of HK$150 million shall be satisfied by setting-off the loan due from the company to the subscriber of the same amount upon completion," the casino operator explained. "The directors are of the view that the subscription will provide a good opportunity to strengthen the financial position and broaden the shareholder and capital base of the Group so as to facilitate its future development."
As of last Friday, the company had some 140.6 million shares in issue. Of the total, 64.7 per cent were held by Inventive Star Ltd.
Nevertheless, the same announcement reads that the company's controlling shareholder wishes to dispose of one billion shares at a price of HK$0.15 per share. The future completion of the disposal will decrease the interests of Inventive Star in the company to 63.95 per cent, according to the filing.
For investors eyeing to buy Imperial Pacific stocks, the casino operator has enjoyed a robust revenue in the first half of 2016 thanks to its temporary Saipan casino, Best Sunshine Live casino and resort.
The firm reported in August that it posted a half-year revenue of HK$3.99 billion (US$ 514.56 million) –95.7 percent of its revenue coming from Best Sunshine. Profit for the period was HK$837.3 million Hong Kong dollars ($108 million) compared to a loss of HKD168.8 million (US$ 21.77 million) in the corresponding period of last year.
Data shows that around 500 VIPs from mainland China, Hong Kong, Macau and South Korea had paid 600 visits to the casino during the half-year, according to Imperial. It added that VIP betting volumes hit a high of $3.19 billion in April due to what an official called "one-off" visits by a couple "super VIPs."
Imperial Pacific is also eyeing to launch its Imperial Pacific Resort in Saipan this coming Chinese New Year. The new gambling facility casino would feature around 200 to 300 gaming tables and 300 to 400 slot machines.