Imperial Pacific International Holdings reported that its temporary casino on the island of Saipan posted its second lowest rolling chip last month since it began operations in November.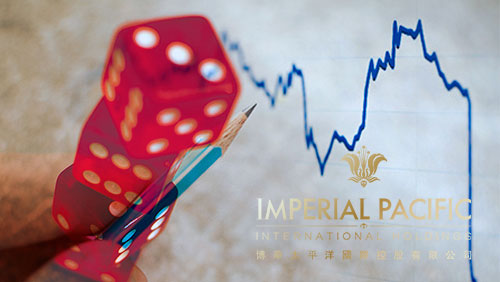 In a filing to the HongKong Stock Exchange, Imperial Pacific announced that its August rolling chip volume was at US$1.55 billion, the second lowest tally that the company had. The lowest rolling chip volume of Imperial Pacific was achieved in December last with US$1.44 billion.
The highest monthly VIP roll of Imperial Palace was recorded in April with of US$3.19 billion.
The latest figures is cementing Imperial Pacific's recent claim that its VIP turnover "will cease to grow and have become saturated." Imperial Pacific exclusively operates in Saipan, the main island of the Commonwealth of the Northern Mariana Islands, through its subsidiary, Best Sunshine International.
For this year, Imperial Pacific is enjoying quite a remark first half especially when it announced last month it posted a half-year revenue of HK$3.99 billion (US$ 514.56 million), 95.7 percent of its revenue coming from Best Sunshine Live casino and resort in Saipan.
Profit for the period was HK$837.3 million Hong Kong dollars ($108 million) compared to a loss of HKD168.8 million (US$ 21.77 million) in the corresponding period of last year.
Data shows that around 500 VIPs from mainland China, Hong Kong, Macau and South Korea had paid 600 visits to the casino during the half-year, according to Imperial. It added that VIP betting volumes hit a high of $3.19 billion in April due to what an official called "one-off" visits by a couple "super VIPs."
Best Sunshine International Chief Executive Mark Brown earlier attributed the high revenues of the company to the success of its VIP segments.
"Because of the yachts that [the VIPs] are staying on, the staterooms, having the private 24-hour chefs and other service, staying at the villas, this is what took [our] numbers to the next level," he said. "It's just the overall experience of fishing and scuba-diving and snorkeling and sky-diving, all of the things that go with a beautiful island."
Meanwhile, Imperial is eyeing to launch its Imperial Pacific Resort in Saipan this coming Chinese New Year. The new gambling facility casino would feature around 200 to 300 gaming tables and 300 to 400 slot machines.
"The board aims to commence opening of the Imperial Pacific Resort by 2017 Chinese New Year with the opening of the hotel tower by the end of March 2017," Imperial said.  "Construction of the town hotel, the Imperial Pacific Resort in Garapan, Saipan, has been progressing smoothly. An additional US$83 million (equivalent to HKD644.9 million) has been invested in design and construction of this super luxurious resort which has brought the total investment to US$143 million (equivalent to HKD1.11 billion) by the end of first half of 2016."
Comments