The iGaming Education Forum which is taking place during the SIGMA Conference (16/17/18 November), has gained official support from the Malta Gaming Authority (MGA), the independent regulatory body responsible for the governance of all gaming activities in Malta.  The endorsement represents a major coup for Forum organisers, the iGaming Academy, widely recognised as a leading force in the provision of expert training and education, for the online gaming industry.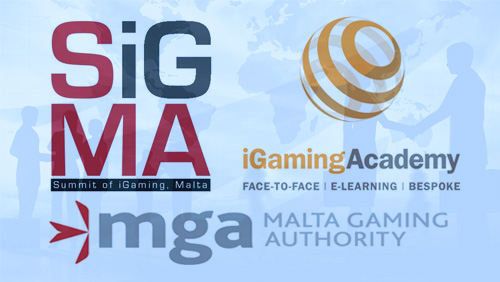 iGaming Academy Director, Jaime Debono, stated: "In many people's eyes, the MGA represents a 'gold standard' for gaming governance in the EU and to have secured the Authority's support assists our aim to make Malta synonymous with training and educational excellence."
"Our mission statement is to 'grow the industry through education' and the first Forum will deliver comprehensive, current and relevant content tailored for any individual who strives to hold a successful position within iGaming. This year's SiGMA is set to break all records and we are looking forward to bringing a new and dynamic dimension to this successful event."
Joseph Cuschieri, Executive Chairman of the Malta Gaming Authority, said: "Education and training are fundamental to the professional on-going development of what is the fastest growing gaming sector in Malta. Education, innovation and professionalism underpin our brand and we are looking forward to taking an active part in the first iGaming Education Forum in November." He also added "As part of this important initiative – the MGA has nominated Thomas Mahoney to head the training division which will further address the need for education within the gaming industry".
The iGaming Education Forum, which offers the opportunity for delegates to benefit from 80-years of gaming experience in just three days, will focus on three of the major areas of contemporary interest to the industry including Compliance, which will touch on regulatory aspects including AML, Anti-Fraud and Payments as well as Responsible Gaming. The event also covers product specific topics, such as Sportsbook, Casino or Lottery Management and eSports. The Acquisition and Retention workshop, will address Customer Relationship Management, Social Media Marketing and Affiliate Management. All participants in the iGaming Education Forum will also have free entrance to the expo as SiGMA delegates.
For more information and to register for the iGaming Education Forum, visit http://www.igacademy.com/igaming-education-forum.htm. Note that spaces are limited and on a first come first serve basis.
Media Enquiries:
Jonathan Taylor – [email protected]
+44 (0) 1273 699900