Mumbai, June, 2016: Online poker website Khelplay.com recently organized a panel discussion on "RECENT DEVELOPMENTS IN THE SKILL GAMES INDUSTRY"- a seminar on legal, regulatory and tax updates for poker players and operators. The event mainly generated awareness about the recent developments and potential of the skill games industry and how it is different from gambling.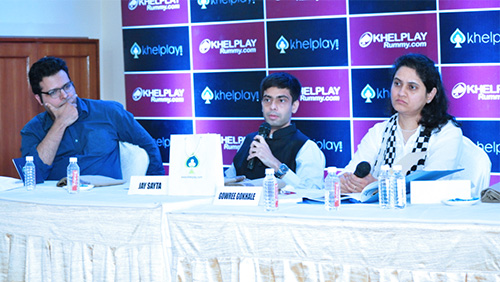 Mr. Kuntal Sampat, Vice President of Sachar Gaming Pvt. Ltd. which operates khelplay.com introduced the audience to khelplay.com and its state of the art features.
Mr. Jay Sayta, founder of gaming laws website Glaws.in and moderator of the seminar opened the discussion by saying that games of skill like poker, rummy and fantasy sports enjoy an exalted status as per India's gaming laws and do not amount to gambling, contrary to popular perception.  He added that staking of money on games of skill like poker and rummy is understood to be completely legal and therefore after the dot com boom a large number of companies have started offering skill games although the industry is still in a nascent stage.
He also noted that the purpose of the seminar was to create awareness about all the happenings around the skill games industry and significance of recent developments like the law passed by the Nagaland government and taxation, foreign exchange issues faced by players as well as potential and market size of the industry.
According to Mr. Amit Varma, Senior Journalist & Columnist, "Gambling is legal in Britain and also some parts of India. The complete legalization of poker can be responsible of economic development of the country."
Ms Gowree Gokhale, Senior Partner of leading law firm Nishith Desai Associates said, "In most states (except Assam and Odisha) games of skill is excluded from the ambit of gambling. Operators should carefully structure how to comply with law and either put a disclaimer to restrict players from Assam and Odisha or geo-block persons from these states."
Mr. Vidushpat Singhania,Partner Krida Legal said "The whole distinction between games of skill and chance is   a British concept and the idea of skill gaming developed from that time. Due to the advent of technology, since gambling and skill games are provided online, the question lies whether it will lie in the ambit of the state or the central government."
Various other aspects pertaining to taxation, foreign exchange, consumer protection and fairplay related issues faced by skill games players and operators were also discussed by the panelists in an engaging discussion.
According to a newly created not-for-profit society, the All India Gaming Federation (AIGF), "The gaming sector has the potential to bring in massive employment and boost India's gross domestic production and at the same time eliminate the organized crime, money –laundering and other associated problems plaguing the society." AIGF was introduced at the event by Mr. Roland Landers, the former Chief Brand Officer of Zee Group, who has more than 23 years experience in the sports and entertainment sector. Mr. Landers will be heading the newly constituted not-for-profit body AIGF.
About Khelplay.com:
KhelPlay aspires to become the best site to play poker online in India and with that being our motivation, we offer most popular poker games like Texas Holdem, Omaha, Sit & Go, Poker Tournaments (Satellite, Freeroll etc.) and other Poker variations that you can play with people around India. Whether you want to play free poker or poker for cash, KhelPlay is a fun and safe site to play poker.