It's a well-worn cliché that a way to a man's heart is through his stomach, but will food save Steve Wynn's $2.1 billion Everett waterfront casino project?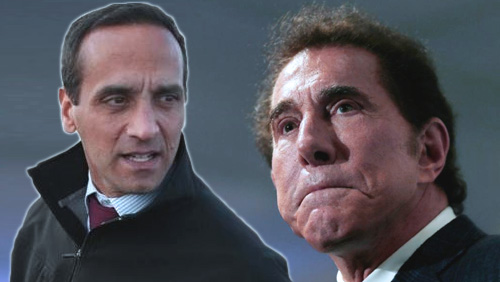 Wynn is reportedly eyeing to have lunch with Somerville Mayor Joe Curtatone, a staunch critic of the Wynn Everett project whom he has never met, and have a friendly discussion about his casino project. The meeting, however, is unlikely to happen anytime soon as the casino magnate is set to fly to Macau for the opening of the Wynn Palace in China's gaming hub.
"And I will. Not would. I shall. How can I not? They're neighbors, and you want to have — if you've got your head screwed on straight — a good cordial relationship with everybody, especially if it's where your employees live. I think that's a natural, wonderful thing to do."Wynnsaid after a Wednesday speech to Boston College's Chief Executives Club, as reported by news website Boston.com.
"By Labor Day, I'll be open, and I'm going to spend more time in New England this fall," he added.
During his formal remarks, Wynn was more pointed, saying the casino company was "friends with everyone" except Curtatone. "And he'll get over it," Wynn quipped.
In a statement sent to The Boston Globe, Curtatonesaid he was pleased to hear "Mr. Wynn wants to be a good neighbor to Somerville."
"That's essentially what we've been asking for," he said. "As I've made clear for the past two years, my door is open if he is interested in a constructive conversation about Somerville's concerns."
In February, Curtatone filed an administrative appeal questioning the environmental permit that Wynn Everett received from the Department of Environmental Protection in January 2016. The Somerville mayor believes the casino project will seriously affect "the health of city residents as an estimated 18,000 people per day are expected to drive to the casino."
Following the filing of the appeal, Wynn Resorts shelved the planned spring groundbreaking of the multi-billion casino and left a warning that residents of Massachusetts will stand to lose $660 million annually if the delay to Wynn Resort's casino plans for Everett continues.
A confident Wynn, however, told a crowd of business leaders last Wednesday that they will overcome the legal hurdle that Curtatone right in front of them, describing the mayor's appeal as "superficial and groundless."
He also expressed optimism that his $2 billion waterfront will open its doors to the public by May 2019.
"We fully expect to win," Wynn said in his 45-minute speech.
Comments