This is a guest contribution by Valéry Bollier, co-founder and CEO of Oulala. If you would like to submit a contribution please contact Bill Beatty for submission details. Thank you.
2008 became the year when FanDuel launched the commencement of Daily Fantasy Sports. The relationship between games, sports and statistics was thus fruitfully revolutionized by this idea. The first great jump in the right direction came in the form of offering customers a real skill game. Customers were finally able to showcase their knowledge in sports to their peers and prove that their understanding was superior enough that it enabled them to become a better manager.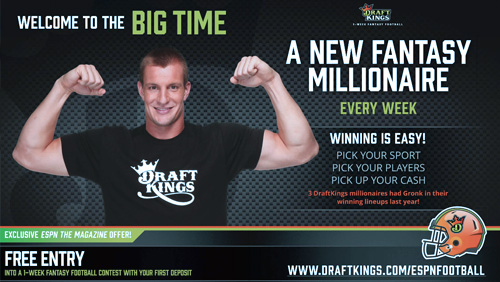 Initially, the market progressed at a rather slow rate, where FanDuel had only 4,000 customers to speak of in 2011. Incidentally, that also turned out to be the year of DraftKings' arrival on the market, subsequently bringing about a healthy competitive spirit that highly benefited the sector's growth. While FanDuel's strategy helped them grow organically, DraftKings developed through a number of acquisitions. These respective strategies, in addition to the aggressive marketing strategy they had set in motion, led to a great growth spurt in their numbers, increasing at a rapid pace. By 2014, FanDuel had successfully acquired 1 million customers.
With this success under their belt, they both went on to raise $350M between August 2014 and August 2015. Despite becoming a major game changer, this money also influenced a major change in the whole nature of the game itself. Up until that point, DFS operators were viewed as real market places. Customers had the option to create or join leagues, enter money into a common pot and potentially go on to win that pot. The invisible hand (Adam Smith) was effective in auto regulating the customer market faultlessly due to the lack of any external influence prevaricating the market. Conversely, the vast marketing plan that followed was grounded on a simple formula, that is, to replace common pots with more attractive guaranteed prizes.
As a result, a heavily unbalanced ecosystem emerged and altered the concept of DFS drastically. The objective of the game was no longer providing a medium for customers to prove themselves to their peers; its sole aim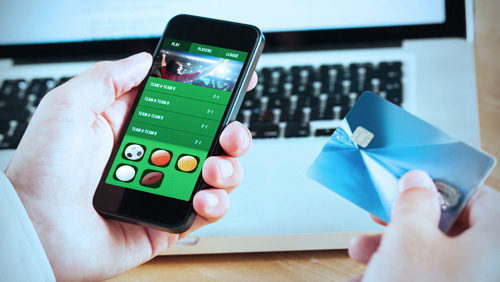 became that of offering guaranteed prizes. It was no longer the case that customers would create only a couple of teams per league, choosing instead to create hundreds of them.
Not long after that, there was a surge of analytical experts entering the game, aware that their mathematical and statistical understanding would help them improve their probability of winning. These professionals flocked in, taking over the ecosystem and cleaning other average sports fans out of their money. McKinsey's study showed that only a mere 15% of DFS customers make a positive return on their investment.[1]
Furthermore, both companies' advertisement campaigns undertook a drastic transformation. The main point of focus shifted from debates over skill to capturing people's attention with the possibilities of a guaranteed prize: "Win $1 Million", "Win $5 Million".  The outcomes of this were evident both in the apparent transformation of their game into a lottery and in their communication methods, bearing stark similarities to those of a lottery.
Such a move, however, caused them more difficulty than benefit since the American legislature only allows DFS as a skill game and forbids any transformation of it into a lottery.
For this reason, the American DFS sector is faced with very challenging times. Numerous federal states have banned DFS,[2] and many class action suits have been filed against them.  Heavy regulations and taxes await them in states where DFS may become legal, restrictions that will only disintegrate their business model. With so much damage done to the market on American soil, their eyes have now begun to turn in our direction.
At OulalaGames, we believe that healthy competition is the most beneficial factor we could be faced with and we welcome any American DFS operator eager to help us shape the European market. However, we remain cautious in hopes that Europe will not follow directly in the USA's footsteps, in order to avoid reproducing the very same mistakes.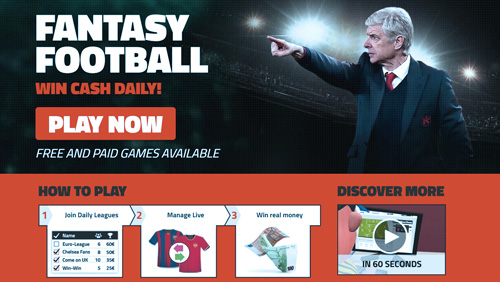 The success of DFS in Europe is only certain if it preserves its original DNA. Were DFS merely branching out from a stem of lottery then it would have no success since the legality of iGaming means there is nothing new that the game can offer its customers. Additionally, once a game of luck attempts to pass itself off as a skill game, operators will be proving that they are unable to deliver on their promise to their customers: that the customers would be able to prove their sports knowledge superiority to their peers.
After several years of scepticism, skill game licences have finally become a topic that is garnering interest. Denmark's recently launched law is particularly promising, and Malta will follow suit,[3] while other legislators from major European countries have begun to pay closer attention to this promising market.
This leaves a great responsibility in our legislators' hands since they are now in control of our sector's future. Developing a real skill game licence means that they will lead our sector, and themselves, directly onto a path of success. On the other hand, choosing to do as the Americans did by allowing massive guaranteed prizes means legislators will be condemning our sector before we can even move forward.
The attractive, short term prospects that affluent DFS companies offer can be very persuasive, promising employment and international visibility, among other benefits. However, it is advisable for legislators to be prudent by keeping their customers' mid to long term interests in mind. A skill game licence that does not impose strict limits on guaranteed prizes will allow the licensee to mislead their customers by concealing their true nature as they pretend to be something other to what they really are. This would only spell disaster for the sector, potentially triggering frustrated customers into suing the legislator responsible for granting a skill game licence to an operator that does not actually offer a real skill game.
Guaranteed prizes were what brought about the downfall of the flourishing DFS American market. All of us, legislators, operators and customers, must learn from these shortcomings in order to successfully develop a healthy and sustainable market in Europe.
About the author:
Valéry Bollier has over eleven years of experience in the iGaming industry. He is a regular speaker at industry conferences and seminars, as well as a contributor to various BtoB publications. Equipped with a passion for Daily Fantasy Sports (DFS) and "Big Data", Bollier is the co-founder and CEO of Oulala, a revolutionary fantasy football game which was launched three years ago.
For media enquiries please contact: 
Jure Rejec
+356 79 499 497
[1] http://www.mckinsey.com/industries/media-and-entertainment/our-insights
[2]http://www.legalsportsreport.com/daily-fantasy-sports-blocked-allowed-states/
On May 23rd 2016, the list of the states where DFS is banned: NY, Alabama, Louisiana, Iowa, Arizona, Nevada, Idaho, Washington, Montana, Hawaii.
[3] The law should pass in September 2016.
Comments