One: Kingdom of Champions Face-off and Photos
Impact Arena Set for First Live One Championship Event
Dejdamrong Sor Amnuaysirichoke and Yoshitaka Naito Ready for Main Event Showdown
25 May 2016 – Bangkok, Thailand: The largest sports media property in Asian history, ONE Championship™ (ONE), announced today that the mixed martial artists competing at ONE: KINGDOM OF CHAMPIONS are ready for all the action which takes place tomorrow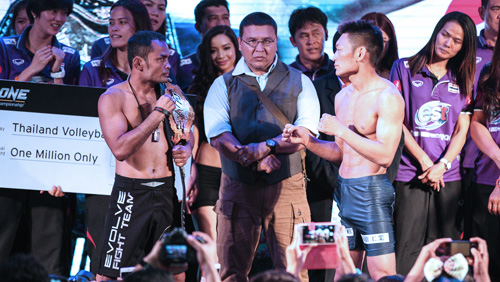 evening, 27 May, at the Impact Arena in Bangkok, Thailand. Competitors faced off against one another ahead of fight night, which promises to be an amazing spectacle of world-class MMA action. Undefeated ONE Strawweight World Champion Dejdamrong Sor Amnuaysirichoke is set to defend his title against unbeaten Japanese challenger Yoshitaka Naito in a 5-round title tiff.
Visit the official ONE: KINGDOM OF CHAMPIONS Face-Off Photo Gallery by clicking:  https://goo.gl/M4tHkn
Dejdamrong Sor Amnuaysirichoke, ONE Strawweight World Champion, stated: "It has always been my dream to compete at home in front of all of my family and friends, in front of the people of Thailand. I am grateful to ONE Championship for giving me the opportunity to live my dream and honoring me as champion. This fight means so much to me and I promise to give my all inside the cage."
Yoshitaka Naito stated: "I am coming into this fight as the challenger, as the underdog, in front of my opponent's hometown crowd. But in my professional career, I have not known defeat and I plan to keep it that way on fight night. The champion had better be prepared for a real battle, because I will be bringing all my skills into the cage. I will walk away with that belt around my waist."
Tickets for ONE: KINGDOM OF CHAMPIONS are still available at https://www.thaiticketmajor.com/
ONE: KINGDOM OF CHAMPIONS
MAIN EVENT
ONE Strawweight World Championship bout: Dejdamrong Sor Amnuaysirichoke (C) VS Yoshitaka Naito
CO-MAIN EVENT
ONE Featherweight World Championship bout: Marat Gafurov (C) VS Kazunori Yokota
MAIN CARD
Catchweight bout: Timofey Nastyukhin VS Rob Lisita
Middleweight bout: Leandro Ataides VS Marcin Prachnio
Lightweight bout: Shannon Wiratchai VS Kyal Linn Aung
Featherweight bout: Christian Lee VS Rocky Batolbatol
UNDERCARD
Catchweight bout: Yodsanan Sityodtong VS Khon Sichan
Strawweight bout: Pongsiri Mitsatit VS Ye Thway Ne
Strawweight bout: Kritsada Konsrichai VS Kev Hemmorlor
For more updates on ONE Championship™, please visit www.onefc.com and follow Twitter and Instagram @ONEFCMMA and Facebook at www.facebook.com/ONEFCMMA
About ONE Championship™
ONE Championship is the largest sports media property in Asian history. Headquartered in Singapore, the world's most exciting mixed martial arts organization hosts the largest sports entertainment events across Asia featuring the best Asian mixed martial artists and world champions, all signed to exclusive contracts, on the largest media broadcast in Asia. ONE Championship is broadcast to over 1 billion viewers across 75+ countries around the world with some of the largest global broadcasters, including FOX Sports, Setanta, MNC, Astro, Thairath TV, ABS-CBN, TV5, Physique TV, MYTV, HTV, Esporte Interativo and more.
Media Contact:
Loren Mack, ONE Championship
(e): [email protected]
(m): +65 9771 5617
@LorenONEFC