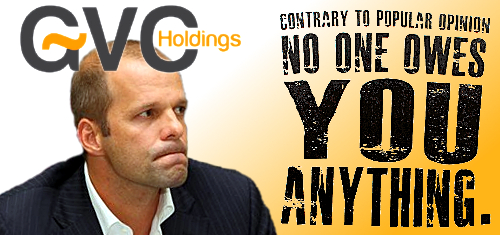 UK-listed online gambling firm GVC Holdings' 2015 revenue jumped while profits tumbled following the company's acquisition of rival Bwin.party digital entertainment.
On Monday, GVC issued preliminary results for 2015, during which net gaming revenue rose 10% year-on-year to €248m, clean earnings were up 10% to €54m and profit before tax (and exceptional items) rose 21% to €50m. This marks the fifth straight year GVC has boasted revenue and earnings growth.
However, €23m in costs related to the prolonged battle to secure the €1.1b Bwin.party acquisition helped push operating profits down 35% to £27.7m. The company also reported a combined hit of £12.4m from the UK's new 15% online point of consumption tax and the imposition of new value added tax in certain European Union markets.
Regardless, GVC CEO Kenneth Alexander hailed his company's "momentous year" and claimed GVC has "never been in a stronger position going forward." Over the next year, the company maintains that it will achieve the €125m in synergies it promised when it inked the Bwin.party deal last September.
GVC also provided an update on its Q1 2016 performance, showing overall revenue up 180% thanks to two months of contributions from the Bwin.party brands following the official completion of the takeover on Feb. 1. Average daily gaming revenue in Q1 was up 13% at the group level, with GVC brands up 18% and Bwin.party brands rising 11%.
That last figure was aided by a rare strong showing by Bwin.party's beleaguered PartyPoker operation. Without getting into specifics, GVC said PartyPoker enjoyed its first year-on-year quarterly growth in five years, although Bwin.party as a whole reportedly generated a net loss of €42.3m in 2015, before GVC officially took the reins.
BWIN.PARTY EXECS TOLD THERE IS NO 'EVERYONE GETS A TROPHY' DAY
Alexander's statement accompanying the release noted that, while Bwin.party had "many managers and staff of exceptional caliber," one of his goals for 2016 was to "inject a cultural change to Bwin.party to recognize financial performance as the success trigger for incentives."
Bwin.party's top execs were notorious for collecting six- and seven-figure annual bonuses despite presiding over a spectacular loss of shareholder value. Chief among these recipients was CEO Norbert Teufelberger (pictured), who somehow wrangled himself a seat on GVC's board as part of the acquisition terms, although that seat could get hot should he be convicted of the international bribery charges recently filed against him in Austria.