Valletta, Malta, April 22, 2016 (Press Release): Following on the tradition from previous years, The BiG Foundation has announced its third edition of the BiG Sports Dinner in Malta, which this year will take place at the InterContinental 5 Star Hotel, in conjunction with SiGMA's welcome drinks and networking poker tournament, on Wednesday 16th November, 2016.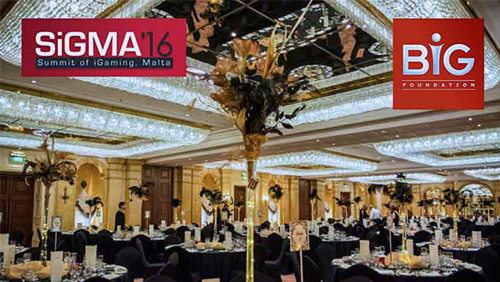 The BiG Sports Dinner, the only sports dinner in the Betting and Gambling industry, has raised funds for several charities over the years. The charities to be supported by the Malta event include Restart Rugby, Reaching Out and the Malta Community Chest Fund.
Initial response from sponsors has been overwhelming and the organisers are anticipating both record attendance and proceeds to be collected by the end of the evening. The dinner will be attended by the President of Malta, H.E. Mary Louise Coleiro Preca.
Richard Hogg, Founding Director of BiG, commented:"We are delighted to be returning to Malta. Last year saw us with an oversold event and we hope to break that record this year. With more time to plan and an enthusiastic partner in SiGMA everything is looking great."
SiGMA's, EmanPulis, added: "True to its name, I observed with great enthusiasm the good deed that this big foundation has been doing for a number of charities, including the Malta Community Chest Fund as well as the Restart Rugby. Personally speaking, the latter charity hits home; as a former athlete, I understand how important it is to nurse elite athletes who drop out of a sports career prematurely."
To register your interest for the BiG Sports Dinner in Malta, please visit the website www.thebigfoundation.org.uk or www.maltaigamingsummit.com. Registration opens 1st May.
ABOUT THE BIG FOUNDATION
The BiG Foundation has been set up as a registered charitable organisation in the UK; the focus being on supporting those in difficult circumstances with funds donated from companies and individuals. For more information on our charity and other registered charities in England and Wales please visit www.charitycommission.gov.uk. To see The BiG Foundation's profile, search using our Registered Charity No. 1153385. See more at www.thebigfoundation.org.uk
ABOUT SiGMA