I love getting in the middle of a union catfight. Red Rock Resorts, formerly Station Casinos, filed for an initial public offering last week with the SEC to sell close to $500M in shares to the public. Blasted all over the paid news wires is a website full of research reports badmouthing the IPO, research funded by UNITE HERE!, a typically annoying and obnoxious name in all caps and exclamation point for a labor union, this one focused on the gaming industry obviously. They represent 270,000 workers, fighting for higher and higher minimum wages so independent workers cannot legally compete with them. I'll do them a favor and add in some bold, italics and underline in case all caps is not loud enough. And I'll also add an extra exclamation point free of charge.
UNITE HERE!! doesn't like Red Rock because Red Rock likes labor unions as much as your local Wal Mart. From the IPO filing:
None of our owned casino properties are currently subject to any collective bargaining agreement or similar arrangement with any union… However, union activists have actively sought to organize employees at certain of our casino properties in the past, and we believe that such efforts are ongoing at this time.
So these union people decided to go on a media blitz, tearing apart the Red Rock IPO limb from limb as a way to leverage Red Rock into hiring its workers. There was probably some back door non-collective bargaining going on with UNITE HERE! before the IPO filing threatening to badmouth the IPO unless Red Rock became more amenable to unions. Red Rock did not oblige. I don't think Red Rock cares all that much about a union whining about their IPO. But I'll take their side by coincidence, at least partly, not because I think their motives are pure or anything close to it. If Red Rock had acquiesced to hiring them, they'd be praising the IPO today do doubt.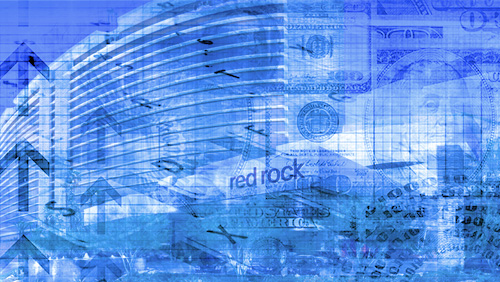 I covered Station Casinos in June of last year, basically saying that while it was growing again, it was still heavily leveraged and up against a debt wall by the time 2020 rolls around. Super leverage is what bankrupted Station in the first place, and if nothing changes, that could easily happen to Red Rock again four years from now. So far nothing has changed, except that the Fertittas, who bankrupted station in 2009, are going to be $500M richer and still control 93% of the new company despite taking it public.
There is nothing criminal or inherently immoral about that, since nobody is being forced to buy any shares in this IPO. It's just the way the Fertitta family set it up, and if you want to buy shares, just know its' all going into their pockets without them giving up any control of the company.
Red Rock is going to be leveraged nearly 100% from the start of its new public existence, with a total debt of about $2.165B when all is said and done. They expect to raise about $500M in this IPO, out of which $417.5 million will be used not to pay down some of that debt, but immediately transferred to Station LLC to pay a portion of the purchase price ($460M) for the Fertitta Entertainment Acquisition. That's not really the problem, as someone has got to get it after all.
The problem is that the class A shares on offer will each have 1 vote per share. Class B, not being offered in the IPO, will have 10 votes per share. The Fertittas own those shares. From the filing:
The Fertitta family will be able to control any action requiring the general approval of our stockholders, including the election of our board of directors, the adoption of amendments to our certificate of incorporation and bylaws and the approval of any merger or sale of substantially all of our assets. Accordingly, we will be a "controlled company."
How do you get the benefit of selling public equity while maintaining 93% control of your company as if it were still private? You do it exactly like this. That's fine, too. Maybe the Fertittas are great managers and the company is better off in their hands and they won't screw up this time by overleveraging the company like they did last time. Just know what you're getting into if you plan on buying some Class A shares here.
The union people also complained about dividends in their research. The initial dividend will be 10 cents a share, a 0.5% dividend at the high end of the IPO price target. Not very generous, and future dividend payouts will be subject to the Board of Directors, controlled entirely by the Fertittas.
Growth is not the issue. Red Rock is making money and growing modestly. As long as Las Vegas keeps growing, so will Red Rock. The problem is, once again, debt, and specifically the year 2020. 75.3% of Red Rock's debt load is unprotected, totaling $1.644B. That entire amount, the biggest portion of its debt in the form of a term loan will be due on March 1, 2020. They won't be able to pay that off, and they'll have to refinance. Interest rates will be a lot higher by then, meaning the debt treadmill will be on high speed.
For the next 3 years or so the stock could do well, but there is no particularly compelling case either way to say that shares are undervalued or overvalued for that 3 year grace period. Just know that you're not really buying a share in the company if you hit the order button. You're just donating to the Fertittas for a 0.5% dividend, maybe. Red Rock Resorts shouldn't be shorted out of the gate, yet, but if and when 2020 LEAP puts become available in 2018, it can't hurt to see what the premiums will be and go shopping.