Compare Free Casino is a new comparison site with an extensive set of search criteria that allows new customers to identify their perfect provider. The site looks to simplify the process of finding an operator by introducing a number of tailored filters that are easy for the user to follow.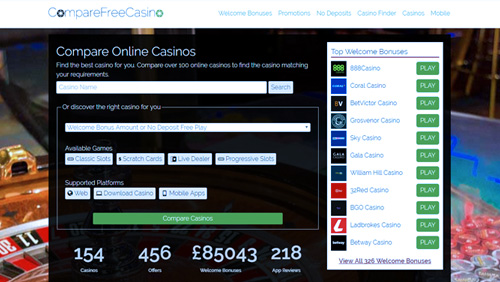 The website compares over 150 casinos and features a filter that allows you to choose those with the biggest bonuses and welcome offers. There are 5 separate financial levels starting with a £100.00 bonus ceiling and rising to those providers who promise over £2,500 in welcome funds when new players sign up.
But the site goes beyond the financial element and introduces other filters. Users can also search by lists of available games including scratch cards and progressive slots and it is also possible to isolate those operators who are providing the increasingly popular Live Dealer service.
"We surveyed a number of experienced and novice casino users to find the search parameters that would be the most useful to them. What information would they need to have, to know if a Casino was the right fit," explained Compare Free Casino's Online Marketing Manager Paul Vickers.
"Using this information we developed the casino finder to include the required search criteria. For example, some players want a certain bonus level or no deposit offer and others are more interested in the casino facilities or even a mix of all three. With our casino finder they can fully customise all aspects of the search to turn hundreds of potential casino sites into three of four perfect matches."
Anyone wanting to trial a casino before they commit can also identify those that offer a free play service before any form of deposit is required.
Web app reviews are also provided to cater for the growing number of gamers who like to play on the go. Compare Free Casino are aware of the steady rise in mobile gaming and this is an important area of the website.
"Whether its apps or mobile sites the use of mobile for online gambling is definitely on the rise. This makes it very important that mobile casinos are featured on the site," Paul Vickers continued.
"Our team have tried and tested each casino's mobile offering to give in-depth reviews and ratings to allow the player to choose the best site for their needs. We cover how to get access to the reviewed app or mobile site and give an overview of the available games and if they differ from the full site."
The site already features over 200 app reviews and over 150 operators are currently included. New providers will be added after launch, subject to a strict vetting procedure.
"Future plans for the site include adding game reviews from all of the leading providers," Mr Vickers concluded.
"This is no small task with around sixty providers and over two thousand games currently available. We'll also be adding a way to compare the percentage chance players have of winning from each casino game and the ability to compare specific game features."
Compare Free Casino is launched and live over at https://www.comparefreecasino.com/ .