During October CASEXE company took part in a couple of ambitious gambling events. On the 18-20th of October, Berlin held an outstanding exhibition – Excellence in iGaming, while on the 27th of October Sochi hosted Russian Gamblig Week, – a comment from company´s official resources.
CASEXE representatives took part in EiG as guests. From their perspective, it gave them a chance to pay more attention to intercommunication with developers, exhibit reviewing and experience exchange in terms of running this type of business.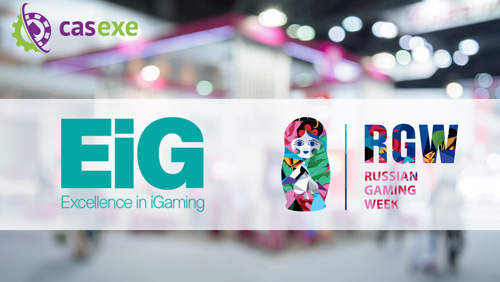 Summarizing the results of the past events, Ivan Kondilenko, company's СЕО pointed out the key aspects, claiming that close attention is paid to elaboration of technological solutions for land-based casinos and online gambling markets. Moreover, he mentioned how important is to popularize new types of gambling software, such as virtual sports and fantasy sport, including interactive slots.
An extremely important role is given to educational projects focused on training and professional advancement and career growth of skilled experts or simple instruction of those who are interested in the industry.
Within the scope of RGW held in Sochi, CASEXE was presented in a demo-zone. The main reason for such an assembly was the discussion aimed at development and promotion of previously projected gambling zone "Krasnaya Poliana" (Red Meadow). During the conference, the main discussions swirled around legislative regulations, initiatives, norms and the scope of their effectiveness in terms of business conduction, as well as betting business in Russian Federation, strategies of "Krasnaya Poliana" project promotion and the rest of relevant aspects of gambling business.
As Ivan Kondilenko comments, in spite of quite different conditions and pace of gambling industry development on the territories of Russia and Germany, various stakeholders of the gambling business tend to think in a similar direction regarding decision-making and industry promotion directions.
In this regard, the following aims should be pointed out:
Setting of clear and transparent rules for all the subjects of the gambling market;
Absence of artificial limitations and prohibitions;
Access to revolutionary technologies;
Open and transparent relationships between gamblers, sponsors, and partners.
CASEXE representatives put an emphasis on the fact that they are planning further participation in specialized events in order to grow professionally as a company and strengthen business ties with their partners.
It should be admitted that CASEXE is a young and dynamically expanding developer on the current gambling market. Their personal record already accounts for 50 successfully fulfilled projects on the territory of Europe, including one of the popular varieties of virtual gambling spots known as bitcoin casino.