In this week's Calling the Clock we bring you news of the demise of Full Tilt, an expensive mistake by Winamax, and much more.
The balding pate of Full Tilt is staring at the shine of the guillotine. It drops in the spring when the once mighty online poker room blends into the largest online poker room in the world.
There is a sense of Agent Smith inevitability about the whole thing. PokerStars acquired the troubled site in 2012, and have tried numerous reincarnations in an attempt to jump start the iconic company.
Full Tilt's Online Poker Tournament Series (FTOPS) XXIX is the last opportunity you will get to play a major event on the site. The fate of their flawless software is unknown.
One man who has earned a few nickels on both PokerStars and Full Tilt is Chris Moorman. This week the British star took his tracked online tournament earnings over the $13 million mark after picking up the win in the 888Poker Sunday Major – that's $4m more that P0cket00 sitting in second place.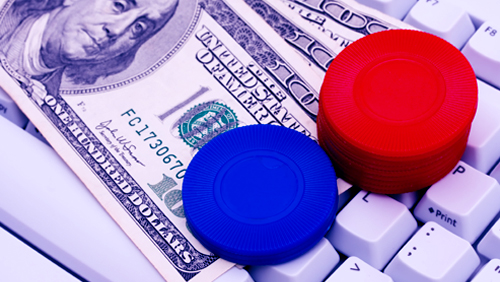 Phil Ivey and Tom Dwan are two of the most successful players ever to take a seat at Full Tilt's tables. The pair have been in Macau, where in between winning large chunks of cash, they popped up on Asian YouTube sites to big up the gamble in a new game called 6-Plus Hold'em. This week, the iPoker Network became the first online network to offer a version of the game on their site.
Cheats, Crooks and Cock Ups
Phil Galfond appeared under the spotlight this week when he wrote an op-ed for PokerNews outing Samuel Touil as a thief who has refused to repay $200,000 of a $250,000 loan. Galfond made the loan during a cash game session in Las Vegas. He is fully aware of the thoughts that are currently racing through your mind.
Sticking with the unsavoury side of poker and the Italian online poker room Dollaro Poker remains open for business despite being raided by Italian authorities in January, where 11 arrests were made and €10m in assets seized.
The site has ties with the Italian mob, and that's all I am saying on the matter, as I don't want to wake up in the morning with the bloodied head of Full Tilt lying in bed next to me.
Winamax were also in the news this week (although I think they would rather they weren't. One lucky punter logged on one morning to find €1.5m in his account. The French online site later claimed it was deposited as a technical error. The lucky player thought he had won the lottery, blew €3k playing a ton, and then withdrew €9k to buy stuff he will never likely use. Winamax offered him €1,000 in exchange for the €9,000, the punter said no, and the argument continues.
Romans, Caesars and Gazillionaires
Rome Emperors team manager, Max Pescatori, will get to choose first when the Global Poker League (GPL) Draft starts on 25 Feb. It was his team's name that was drawn out of the Kinder Egg first, but not before Alex Dreyfus announced that due to the overwhelming interest in the event he had decided, in consultation with the team managers, to increase team sizes to six players.
The GPL isn't the only poker organisation who believes there is something to this team concept. Word leaked out from World Series of Poker (WSOP) headquarters that the 2016 event will host a team event for the first time in 33-years. It's believed each team will consist of 2-4 players and it will cost $1,000 to buy-in. The winners will receive bracelets.
Bill Perkins was up to his old tricks again this week. If you ever wondered what to do with all your money if you were ever fortunate enough to have too much of it then look no further than this man.
According to Twitter Perkins has dared Dan Bilzerian to try and cycle from his home in Los Angeles to the "Welcome to Las Vegas" sign in…Las Vegas. If Bilzerian manages to make it without having a heart attack he will pay him $1.2m.
Bilzerian is not as generous.
The King of Instagram has promised to pay Samantha Abernathy $10,000 if she can bike from Vegas to LA in 72hrs without dying.
If she dies….she dies.
Tournament News
The European Poker Tour (EPT) is in full swing over in Dublin. Mustapha Kanit won the €25,750 High Roller for €501,640, Charlie Carrel won the €10,200 Single Day High Roller for €145,938, and Vladas Tamasauskas won the United Kingdom & Ireland Poker Tour (UKIPT) Dublin for €176,900. Over the other side of the pond Mukul Pahuja won the WSOP Circuit (WSOPC) Main Event at Palm Beach Kennel Club for $193,095.
Time ladies & gentlemen please.
Someone has just called the clock.