'The Magician' Antonio Esfandiari has been disqualified for the PokerStars Caribbean Adventure (PCA) Main Event after pissing in a bottle while playing after a prop bet gone wrong with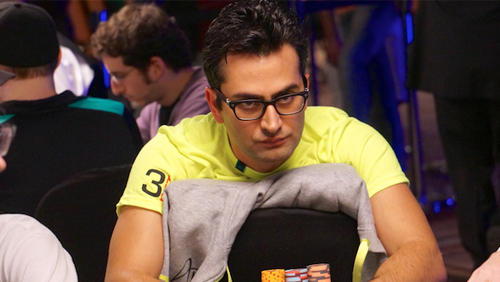 Bill Perkins.
Tournament officials have disqualified Antonio Esfandiari from the PokerStars Caribbean Adventure (PCA) $5,300 buy-in Main Event in a move that took the term 'splashing the pot' to a whole new level.
It all started after the former One Drop winner agreed to a prop bet with hedge fund manager, film producer and poker player Bill Perkins. The terms of the bet were Esfandiari would have to perform 'lunges' anytime he had to move anywhere within a 48hr period. The cost of the bet is unknown, although various sources on social media suggest that Esfandiari stood to make $50,000.
Starting tomrw at 11:59 PM wherever I go I will 'lunge' there. Yes, anywhere and EVERYWHERE for 48 hours. TY @bp22 for the suffering.

— Antonio Esfandiari (@MagicAntonio) January 8, 2016
Tournament Leak
Easy right?
Think again.
Esfandiari made it through to Day 2, but after lunging his way to his table realised he was in a spot of bother. Talking to PokerNews Sideline reporter, Sarah Herring, Esfandiari explained, "After the lunges it took to get here my legs felt like putty and I couldn't move. I wasn't about to pay and not collect. And so I did what I had to do."
It seems 'doing what he had to do' involved pissing in a container, while at the table because he couldn't find the energy to make it to the toilet.
"It was a very serious bet," said Esfandiari.
And serious bets make for serious actions. However, the European Poker Tour (EPT) floor staff didn't respond too kindly to Esfandiari letting the flavour flood out, and after a brief discussion, tournament officials disqualified him from the event. He was lunging behind a stack of 100,000 chips at the time.
"Looking back, I realise I didn't look at the bigger picture," Esfandiari told Herring, "I made a mistake. My actions were totally out of line and unacceptable. I got so caught up with the bet that it was funny, the extent I would go to. I wish I could go back and do things differently. My behaviour was a bit childish and I apologise. I am not proud of the way I behaved today. I got disqualified from the tournament. I think Bill Perkins got the best of me."

Yes, Esfandiari was disqualified from PCA Main Event. He went to extreme measure to win his lunge prop bet. When u gotta go, u gotta go.

— Chad Allan Holloway (@ChadAHolloway) January 11, 2016
Perkins Improving
You have to hand it to Perkins. The man is learning from his mistakes. His prop bets are becoming more challenging. A few years ago Perkins paid Jeff Gross over a half a million dollars for having a rainbow tattoo, smaller than an egg, etched into his back. Talk about easy money.
Perkins has kept his powder dry on the whole issue. Esfandiari has been nothing but apologetic. The Magician will be allowed back next year. I wonder if average Joe would have been afforded the same luxury?
A very apologetic @MagicAntonio lunging after being DQd from the Main after go too far trying to not break his bet. pic.twitter.com/ySHciP92HW

— Remko Rinkema (@RemkoMedia) January 11, 2016