Before we finally bid goodbye to 2015, here's a look back at the top six business stories that caught the attention of our readers—yes, you—in the past 12 months.
Biologist loses measles virus wager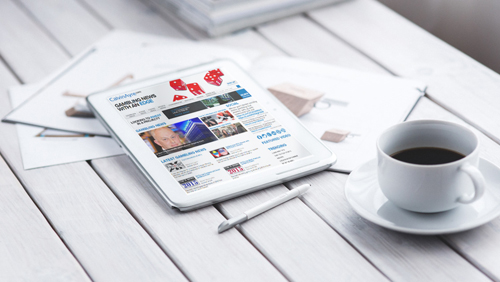 Measles made the headlines back in March thanks to a resurgence in outbreaks that observers blamed on the discredited anti-vaccination movement in many western countries. Stefan Lanka, a biologist and vaccination skeptic, believes measles is brought on by "traumatic separations," and even went as far as announcing on his website that he will pay €100,000 to anyone who could prove the disease was caused by virus.
Of course someone took up that challenge. German doctor David Barden gathered a weighty collection of scientific evidence of measles' viral origin and presented them to Lanka with a request for €100,000 payment, but Lanka rejected Barden's evidence.
The undeterred doctor took the matter to court, which, in turn, ordered Lanka to pay up because all the criteria of his wager had been fulfilled.
666Bet director nabbed in £21M VAT fraud, money laundering probe
Another event that happened in March was the arrest of 666Bet director Paul Bell in connection with a money laundering and fraud investigation. Bell, a former stockbroker turned investor, was one of the group of people arrested during Operation Bannock, which saw police execute a number of raids in the UK, the Isle of Man and Guernsey, seizing "significant" amounts of cash and business records.
Data sheds doubt on DFS's long term viability
In September, two gambling experts addressed "the curse of too much skill," specifically the issue of how a small percentage of daily fantasy sports players are using technological aids to capture the bulk of player winnings. According to Ed Miller and Daniel Singer, just 1.3 percent of all DFS players accounted for 40 percent of fees and won 91 percent of player profits.
The top 11 players of this 1.3 percent are the true DFS sharks, spending an average of $2 million in entry fees and realizing profits of $135,000 apiece. These players accounted for 17 percent of all entry fees.
Amaya ordered to fire former PokerStars, Full Tilt execs
On Sept. 30, New Jersey officially granted PokerStars an online gambling license. The condition: Stars' owner Amaya Gaming must fire four senior executives connected with PokerStars and Full Tilt, including Stars founder Isai Scheinberg.
Isai was one of the 11 individuals indicted on April 15, 2011—aka Black Friday—for continuing to serve U.S. customers following the 2006 passage of the Unlawful Internet Gambling Enforcement Act (UIGEA).
Anal sex and Malaysian Muslims
A video that suggests anal sex with female live dealers recently went viral in Malaysia, a country with predominantly Muslim population. The Raykat Post published a link to a Facebook video promoting Royal Fun Club online gambling site. The Malaysian-language video (with English and Chinese subtitles) says it is "ridiculous" that Muslims aren't allowed to gamble in casinos, along with a number of rhetorical questions like "why can't Muslims fuck huge titted chicks?" Why indeed…
YouPorn eSports team member banned from wearing team colors
Last on our list is the unfortunate story of Street Fighter IV player Valentin "YP_Valmaster" Petit, who was prohibited from competing at the recent Capcom Cup event in San Francisco in his team colors.
Petit, who ranks among the top 20 players in the world in his niche, represents Team YP, and the YP stands for YouPorn, which entered the eSports industry last year. Still, YouPorn VP Brad Burns is firm that they never promote the online porn site brand or any of porn to their Team YP fans—who are mostly male between 18-34 years old.