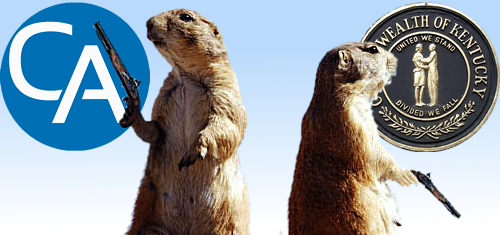 A court has ordered Canadian online gambling operator Amaya Gaming and its PokerStars subsidiary to pay $870m to the Commonwealth of Kentucky.
Last month, Franklin Circuit Court Judge Thomas Wingate awarded the state $290m in compensation for PokerStars's dealings with Kentucky residents between 2006 and 2011. On Wednesday, Wingate granted the state's request for triple damages, bringing Amaya's total tab to $870m.
Wingate also warned Amaya not to dilly dally on making with the money, as the company will pay interest of 12% per year ($104m) until the debt is wiped clean. Wingate, who has routinely sided with the state in its multiple actions against online gambling sites, wrote that Amaya would probably view his $870m bill as "harsh medicine" but "such is the consequences for violating the laws of Kentucky."
The state filed the suit in 2010, arguing that PokerStars had illegally provided gambling services to Kentucky residents between Oct. 12, 2006 (the date the Unlawful Internet Gambling Enforcement Act was signed) and April 15, 2011 (the date of the Black Friday federal indictments that forced Stars to exit the US market).
Kentucky had filed its suit based on a 19th-century statute that allows third parties to collect state residents' illegal gambling losses if the bettors don't act within six months. That same statute allows the third party to seek triple damages of any losses.
Amaya has already indicated its intention to appeal any unfavorable ruling and has also stated that, if such appeals were unsuccessful, it would ask Stars' former owners – Isai and Mark Scheinberg – to foot the bill, given that they were in charge of Stars during the period in question.
Wingate has yet to rule on a motion to intervene filed by the Poke Players Alliance, which is attempting to ensure that any payment goes not to the state but to the players who actually lost money on Stars. Kentucky's attorneys have dismissed the PPA's motion as a bid to reduce Amaya's bill, as that archaic statute doesn't allow groups of individuals to claim treble damages.
YOU, SIR, HAVE CROSSED A LINE
Ironically, a recent legal filing by Kentucky's attorneys attempting to beat back the PPA's intervention as "a ruse" cited an article that appeared on CalvinAyre.com. For the record, we object to our coverage being used to support Kentucky's efforts, particularly given the ridiculous legal premise on which they're based.
However, since there's still a section of Kentucky's constitution that requires the state's public officials – and lawyers – to swear an oath saying they've never fought a duel with deadly weapons, we hereby challenge Kentucky attorney Bill Hurt to trial by combat. (Takes off glove, slaps lawyer, immediately feels better.)
Pistols, sabers, Long Dong Silver dildoes dipped in cement… whatever you feel most comfortable with. If we win the duel, Hurt obviously won't be able to fight the appeal, and if we lose, he'll be disbarred, so ditto. You're welcome, Mr. Baazov.