Lee Davy brings you a full update of the eighth week of Premier League action including a master class from Sergio Aguero, the first managerial casualty of the season, and a little egg on the face of Roy Keane.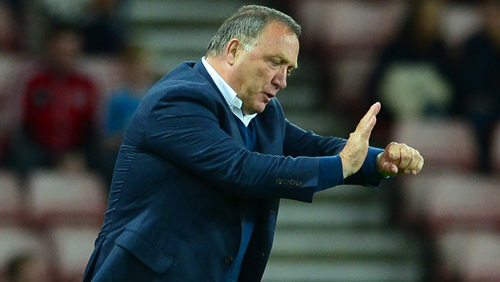 Arsenal needed a shot in the arm of Rent Boy proportions and it came from one of their biggest detractors.
After the Gunners shambolic performance against Olympiakos, in midweek, former Man Utd stalwart, and ITV pundit, Roy Keane, tore them a new asshole with a no holds barred scathing attack on their character.
"They're soft. They're weak. There is a certain weakness to this group. They look like they lack characters, leaders and winners. You'd fancy playing against that Arsenal group most weeks."
I guess they must have been watching.
They destroyed Keane's former club at the Emirates. The commentary team on Sky said the game was over after 20-minutes. They were being kind. The game was over after just six minutes.
They were too smart, too fast, and too skillful. Matteo Darmian and Ashley Young looked like a pair of Sunday pub league players, as Arsenal ruthlessly exposed United's lack of organization, and positional awareness, with goals from Mesut Ozil, and a brace from the man of the match Alexis Sanchez seeing Arsenal leapfrog United into second with a 3-0 home win.
That pummeling meant United's return to the top of the league, after a two-year hiatus, only lasted one week, and it was their Lancastrian neighbors Man City who returned to the top spot with a scintillating second half performance against a Newcastle team who now drop to the bottom of the league.
If there ever was a game of two halves, this was it. Buoyed by their improved performance against Chelsea, Newcastle played superbly in the first half, and took the lead thanks to a header from Aleksandar Mitrovic in the 18th minute.
Newcastle continued to squander chance after chance as City looked like they were on the conveyor belt to a third successive league defeat. That was until Sergio Aguero reminded everyone that he is one of the best players in the world with five goals in 23-minutes.
The second half was a massacre as Newcastle capitulated in front of a gobsmacked Steve McClaren. Aguero scored in the 42nd, 49th, 50th, 60th and 62nd minutes. Kevin De Bruyne also got on the score sheet for his fourth goal in four matches. If Newcastle continue to play like they did in the second half they will need to start wearing parachutes, because they will be destined for the drop.
Newcastle hit the bottom of the league after their archrivals Sunderland held on for a point at home against West Ham. They started like a house on fire. Steven Fletcher scored a goal straight off the training ground, in the 10th minute, and a sublime chip by Jeremain Lens, in the 22nd minute, put Dick Advocaat's side two goals to the good. Lens would then turn from hero to zero – sent to the stands for two bookable offences, and West Ham went into overdrive. Goals from Karl Jenkinson and Dimitri Payet brought West Ham level, but Slaven Bilic's side will be disappointed not to make it four away wins out of four.
Then things got worse.
Sunderland coach Dick Advocaat became the first Premier League managerial casualty of the season when he quit.
"I feel this is the right time to do this – not for me, but the club. I have made the decision to go after only eight games as I felt it was important to give everyone time to turn things around, like we did last year." Advocaat told the press.
In other words, he quit because they were a bag of spanners who never did what he told them to.
From a manager who has left the club, to one who seems to be losing the plot? In the first few weeks of the season I criticized Jose Mourinho for the regularity that he spits his venom in the faces of the officials. On Saturday he was at it again, after wrongly criticizing the referee over a penalty shout when it was clear that Radamel Falcao dived.
Chelsea continued their woeful start to the season with another defeat, this time at home to Southampton. They simply couldn't handle the pace and power of Graziano Pelle, Sadio Mane and Dusan Tadic in their three-one loss. Alan Shearer hit the nail on the head when he said he has lost the dressing room. That can be the only answer as to why the champions have crumbled so dramatically in recent weeks. They have now lost more games this season, than the entirety of last season, and the Special One had better stop focusing on the officials, and instead focus on rebuilding a sense of camaraderie that used to be second to none.
Chelsea were outdone by pace, Man Utd were outdone by pace, and West Brom went exactly the same way. Crystal Palace now occupy a Champions League spot after they blew Tony Pulis's side away at a buzzing Selhurst Park: the pace of Yannick Bolasie, Jason Puncheon and the rampaging Wilfried Zaha proving too much. Bolasie scoring his first goal at Selhurst Park for a millennia, and the Premier League's best signing of the summer, Yohan Cabaye, scoring from the penalty spot to continue a wonderful start to the season for Alan Pardew's men.
Whatever Crystal Palace can do, so can Leicester it seems. Claudio Ranieri's men continue their amazing run of games, with a 2-1 victory at Carrow Road. Jamie Vardy remains at the top of the Premier League goal scoring charts with his seventh of the season, and Jeff Schlupp made it 2-0 in the 47th minute. Dieumerci Mbokani headed a consolation goal for the Canaries, but Leicester held on for all three points.
Tim Sherwood told the Aston Villa fans to buckle up and expect a tough season, as he continues to shape a team that was created in haste after a flurry of summer transfer signings. Unfortunately, by the time they do manage to get their act together they will be playing their football in the Championship. This week Villa losing at home by a goal to nil to Mark Hughes's Stoke.
Three more games to catch up on and Bournemouth will be kicking themselves after drawing at home to Watford. Glen Murray came in for the injured Callum Wilson, and scored the games opening goal, but would then go on to miss a penalty that would have given Bournemouth all three points. If they are going to avoid the drop, it's vital they win home games against their fellow trap door strugglers like Watford.
Brendan Rodgers continues to manage Liverpool despite the likes of Jürgen Klopp, Carlo Ancelotti and Ronald de Boer hanging around like shark on chum. He took his side to Goodison Park this weekend for the Merseyside derby and will be happy to come away with a point. Danny Ings opening the scoring in the 41st minute, but Romelu Lukaku equalized just before half time. The second half remained goalless, but Everton deserved the win on points.
Last but not least and Swansea's run without a win now extends to four after a thrilling 2-2 encounter at home to Spurs. Two cracking free kicks from Christian Eriksen grabbing an away point for Mauricio Pochettino's men, after Andre Ayew, and an own goal from Harry Kane, had given the Swans the lead on two consecutive occasions.
Week 8 Results
Crystal Palace 2 v 0 West Brom
Man City 6 v 1 Newcastle
Sunderland 2 v 2 West Ham
Norwich 1 v 2 Leicester
Bournemouth 1 v1 Watford
Aston Villa 0 v 1 Stoke
Chelsea 1 v 3 Southampton
Everton 1 v 1 Liverpool
Swansea 2 v 2 Spurs
Arsenal 3 v 0 Man Utd
Premier League Standings (After 8 Games)
1st. Man City – 18 pts.
2nd. Arsenal – 16 pts.
3rd. Man Utd – 16 pts.
4th. Crystal Palace – 15 pts.
5th. Leicester City – 15 pts.
6th. West Ham – 14 pts.
7th. Everton – 13 pts.
8th. Spurs – 13 pts.
9th. Southampton – 12 pts.
10th. Liverpool – 12 pts.
11th. Watford – 10 pts.
12th. Swansea – 10 pts.
13th. Norwich – 9 pts.
14th. Stoke – 9 pts.
15th. Bournemouth – 8 pts.
16th. Chelsea – 8 pts.
17th. West Brom – 8 pts.
18th. Aston Villa – 4 pts.
19th. Sunderland – 3 pts.
20th. Newcastle – 3 pts.
Comments