The founder of Bitcoin Savings & Trust is facing up to 20 years in prison after pleading guilty to one count of securities fraud on Monday.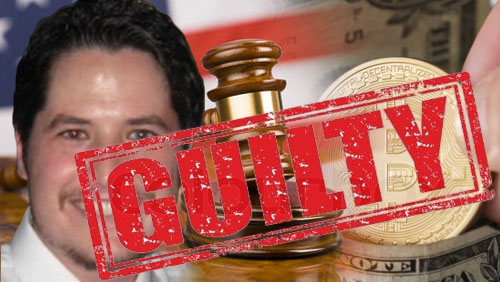 Trendon Shavers, 33, admitted to defrauding investors after raising an estimated $4.5 million worth of bitcoins while operating BS&T, Bloomberg reported.
Shavers' case is the first criminal securities fraud case related to digital currency in the United States.
Prosecutors said the 33-year-old Texan raised some 764,000 bitcoins from September 2011 to September 2012 after promising investors an interest rate of 7 percent a week or a total of 3,641 percent, according to the news outlet. Shavers, however, used the bitcoins to pay his earlier investors, in addition to paying for his own gambling and spa treatments in Las Vegas.
Prosecutors said Shavers misappropriated some 146,000 bitcoins and caused 48 investors to suffer losses. Assistant U.S. According to Bloomberg, Attorney Michael Ferrara told the court on Monday that, "The evidence would show the money [Shavers] received from Investor B was used to pay Investor A—in other words, he had the tell-tale signs of a Ponzi scheme."
Bloomberg also quoted Shavers, who told the court, "I know what I did was wrong, and I'm very sorry."
Shavers was arrested in November, two months after a judge in Texas ordered him to pay $40.7 million in a related U.S. Securities and Exchange Commission civil lawsuit, according to Raw Story.
Shavers is the latest to fall under U.S.'s intensified crackdown on bitcoins. In February, 30-year-old Ross Ulbricht was convicted on seven counts of drug trafficking, money laundering and a whole host of cybercrimes. Ulbricht is connected with the operations of Silk Road, an online bazaar where people used digital currency to buy and sell drugs and transact on a wide range of illegal practices, including hiring hitmen. He was sentenced to life in prison.
Meanwhile, federal investigators also found out that Shavers invested some of his victim's funds with the now-defunct Mt. Gox.
A quick refresher: The Japan-based digital currency exchange filed for bankruptcy in 2014 after claiming that it had lost 850,000 of its bitcoins—worth more than $450 million at the time—to hackers who exploited the site's "transactional malleability."
Mt. Gox ex-CEO Mark Karpeles is facing embezzlement charges in connection with the missing virtual currency. Karpeles was arrested in Tokyo last August over allegations that he manipulated transaction records in Mt. Gox's trading system to inflate the balance of an account under his name.
Still, the recent events hasn't stopped Paul Puey, CEO and co-founder of bitcoin edge security platform for digital assets company Airbitz, to urge politicians to allow virtual currency to carry on.
In an open letter shared on LeapRate, Puey said bitcoin development is facing opposition due to the misconceptions and negative reputation associated with the cryptocurrency.
"Bitcoin will continue to grow, because there is no real way to stop an innovation that people demand and see value in. innovation is like a stream of water. You can block it, but it will always grow in size and eventually forge new rivers around the dam," Puey wrote in the letter that was also sent to 50 governors, 100 senators, and 435 congressmen.
Last week, the U.S. Commodity Futures Trading Commission announced that bitcoin and other virtual currencies "are properly defined as commodities," which means that companies planning to operate a trading platform for virtual currency derivatives or futures will have to register as a swap execution facility or designated contract market.
Comments