Are you a sports betting expert who wants to share an opinion on a game? Contact b[email protected] for more details.
CHARLES JAY ON FOOTBALL BETTING
Niners Are Home Dogs in Jimmy T's "Debut"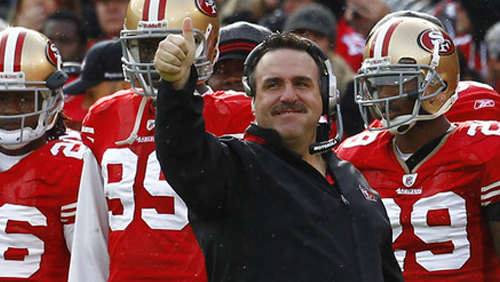 Yes, they were asking "Jimmy Who?" when the new coach of the San Francisco 49ers was announced, and it is up to Jim Tomsula to demonstrate that he indeed was the wisest choice to succeed Jim Harbaugh, who is admittedly a hard act to follow.
Jimmy T, as he is commonly known, didn't even take the conventional route of vaulting from a coordinator's position. He was the defensive line coach for the team, although he did fill in as head coach on an interim basis in 2010 after Mike Singletary was fired. Tomsula is immensely popular with his players, and he is very supportive of them. All indications are that he will need all the support he can get.
His Niners open up the 2015 season against the Minnesota Vikings in the nightcap of ESPN's Monday Night Football doubleheader, scheduled to get underway at 10:20 PM ET at Levi's Stadium in Santa Clara.
The Vikings went 7-9 last season and that represented something of an advancement over their performance from the year before. That happened in Mike Zimmer's first season as head coach, and it happened without Adrian Peterson, who sat out fifteen games while under a suspension that was related to a child abuse issue. Peterson was cleared to return this year, and he is ready to go despite once again sitting throughout the pre-season.
In the NFL betting odds posted on this game, the Vikings are the slight favorites on the road:
Minnesota Vikings  -1.5
San Francisco 49ers  +1.5
Over 41.5 points  -110
Under 41.5 points  -110
The Vikings elevated themselves from the 32nd-ranked defense in the league to #11 in one season under the direction of Zimmer, who had previously been the D-coordinator in Cincinnati. So there are high hopes on that side. And Teddy Bridgewater, who had some very encouraging moments as a rookie, got some help with the acquisition of Mike Wallace, who can stretch defenses. Peterson initially did not want to come back to Minnesota, but when it became evident they weren't going to let him go, he settled in, and now he's talking about a comeback that will shock the world, much like the one he had in 2012, when he ran for 2097 in a season where he was coming off knee surgery. But he will be running behind an offensive line that will be missing regular starters Phil Loadholt and John Sullivan.
Tomsula, a graduate of Catawba College, which is also the alma mater of one of his special teams heavy hitters, safety LJ McCray, and he is one of those "regular guy" types, rather than someone who presents himself as a technician. Either way, he has his work cut out for him in retooling the defensive unit, as a lot of talent has been lost. There was, to begin with, the retirements of Patrick Willis, Justin Smith and Chris Borland. Then there was the release of Ray McDonald, who had legal issues, and Aldon Smith, who had substance abuse problems and apparently relapsed. Starting corners Chris Culliver and Perrish Cox also left. All of that attrition is what has been highlighted.
But what needs to be noted is that injured players like Glenn Dorsey, Ian Williams and NaVorro Bowman are back in the lineup, and Darnell Dockett, who made the Pro Bowl three times, has come over as a free agent. On offense, Michael Crabtree left for Oakland, while Frank Gore took off for Indianapolis, but the 49ers may have added more big-play elements with wide receiver Torrey Smith and running back Reggie Bush. What might be most important is that the tension that existed during last year's 8-8 debacle, a product of Harbaugh's problems with management, as well as those of offensive coordinator Greg Roman, are gone.
This may not be an indicator as to how things may ultimately turn out for these two teams, but we would not be surprised at all to see a very inspired effort from the San Francisco side. So we're on the "take" with the Niners and Jimmy T.
THE PLAY BY JAY:  SAN FRANCISCO +1.5 **
(Graded on a scale of 1-4 stars)
Charles Jay is a gaming professional, content specialist and sports handicapper. For more of his NFL betting opinions, please visit his handicapping website, Plays By Jay, at http://playsbyjay.com
Comments