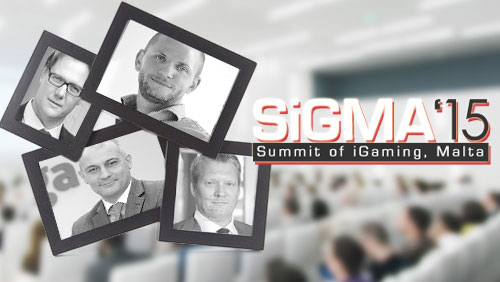 The World Regulatory Brief conference at SiGMA 2015 will take place on 6 November at the InterContinental Conference Area. This conferences consists of four presentation held on Day 3 of the event.
CalvinAyre asked Eman Pulis and Dennis Dyhr-Hansen, organisers of SiGMA15, to explain the new format for the conferences. In their words, "We realized that many of the delegates don't like sitting down for two straight days. Most are eager to network and do business. So unlike SiGMA14, this year, each of the four conferences will only last half a day, giving delegates the chance to dedicate the rest of their time to networking on the expo floor, where most of the buzz lies."
Several speakers will give a detailed overview of the most significant regulatory issues affecting iGaming worldwide in a number of panels moderated by Justin Franssen (bio) . The topics which will be discussed during this conference track include:
• A holistic view for the iGaming industry in Malta
• A detailed overview of newly regulated markets across Europe
• Match fixing
• Data protection
(See the full schedule here)
Executives looking for a bird's-eye view of the latest regulatory shifts in the industry need to look no further than this conference dedicated to discussing the political, social, economic and legal factors making headlines in the iGaming world.
In this article, we list four speakers which you cannot afford to miss during this conference.
Justin Franssen, Partner, Kalff Katz & Franssen (Bio)
Justin Franssen and his highly specialised gaming team joined Kalff Katz & Franssen attorneys at law early 2013. Throughout his career he received six consecutive band 1 rankings in Chambers Global Guide and positions him amongst the top 20 gaming industry lawyers in the world. Franssen spoke at 70+ gaming industry events in the last 15 years, including ICE, the IMGL, GIGSE, Legal Gaming in Europe, Gaming in Holland, EIG, Power50, Gaming Executive Summit and several others.
Robin Reed, Managing Director, Guts (Bio)
An entrepreneur at heart, Robin Reed founded Gaming Innovation Group (GIG) together with Frode Fagerli in 2008. These days, GIG invests heavilyboth in startups and people within the iGaming industry, with the aim ofcreating and acquiring the more high-level expertise in this arena. He currently holds the post of Managing Director in GIG and subsidiaries, which include the affiliate marketing company Innovation Labs, and the award-winning operator Guts Gaming. At SiGMA 2015, Reed will speak about his journey from being a player, to managing a company grossing eight digits annually, and the challenges of venturing from affiliation to the operator side of the business.
Simon Planzer, Partner,Planzer Law (Bio)
Simon Planzer is founding partner at Planzer Law, a Zurich-based boutiquelaw firmwhich provides specialised services on all matters relating to Swiss and international gaming law, and advises on general commercial issues.Planzer wrote his PhD on gaming matters and is a member of the International Masters of Gaming Law. He is the author of the book: Empirical Views on European Gambling Law and Addiction (2014), published by Springer International Publishing and endorsed by leading gaming practitioners and scholars.
Simon Planzer will join Justin Franssen and Olga Finkel in giving a detailed overview of newly regulatory markets across Europe and how operators can make sure to stay within the limits set by the law in the countries they have a presence in.
Joseph Cuschieri, Executive Chairman, Malta Gaming Authority (Bio)
Joseph Cuschieri is a certified public accountant and a fellow member of the Malta Institute of Accountants of Malta. Throughout his professional career, he held various senior executive positions within the private sector mainly in the construction, services and hospitality sectors amongst others.In his role at the MGA, Cuschieri will befocusing on reforming the Authority to make it more efficient and agile, strengthening the relationships with all stakeholders, strategically grow the on-line gaming sector and promote Malta as a globally respected gaming jurisdiction.
Joseph Cuschieri will take the floor alongside Parliamentary Secretary Jose Herrera to talk about the increased emphasis being placed by the Maltese government in addressing new challenges and opportunities in the iGaming industry in a holistic manner through innovative measures.
"In a crowded calendar SiGMA was a personal choice for me to attend. Love the island, love the guys doing it. EveryMatrix is proud to be part of the inaugural SiGMA."
Ebbe Groes, CEO, EveryMatrix
"SiGMA is an excellent networking and knowledge sharing opportunity for local gaming operators, service providers and other industry players seeking to operate in or from Malta. I believe that events like SiGMA can showcase Malta's unique attributes and strengthen our position as a world class gaming jurisdiction".
Joseph Cuschieri, Executive Chairman, MGA            
This is your chance to listen to these industry-leading speakers at the World Regulatory Brief conference during SiGMA 2015. Book your tickets to Malta's largest iGaming event here. Affiliates enter free!