A Wisconsin Judge agreed that over the long run poker is a game of skill, but still refused to legalize it referring to case law that is over 50 years old.
Poker is a game of skill; but an illegal one.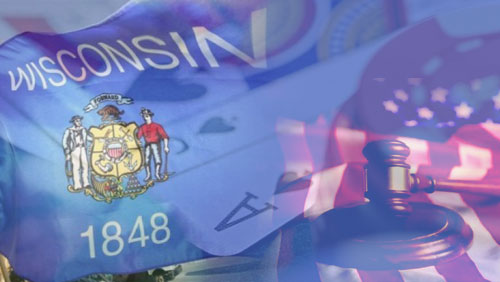 That's the summing up of a Wisconsin Judge, during four minutes that would have made Pontius Pilate proud, after a number of poker players had spent a year, and $10,000 of money not won playing poker in the state, to try and legalize it.
Where I live it's illegal to play poker for money. So we hide the money under the table in the off chance a police officer walks in to check if we are playing poker for real money. It has never happened. I can reliably tell you that it will never happen. We don't have any police officers, and if we did they wouldn't be bothered about a few grown men playing poker for hard earned money.
It's not quite like that in America.
In America, poker is like apple pie and baseball, but if you play it for real money you will be hung naked like Judas whilst dirty old men pluck your pubes with their teeth.
Mark Kroon likes to play poker. He is also the owner of the Player's Sports Bar in Madison. He used to run poker games, but stopped because he was afraid of being arrested. Kroon, along with the Poker Players Alliance (PPA) Wisconsin chapter president Steve Verrett, and a few more locals, raised $10,000 to hire attorney Stan Davis to give Judge Richard Niess enough Chinese burns that he would eventually crack and legalize poker in the state.
It didn't happen.
"My hands are tied," said Niess. "I can't ignore the law."
The law Niess was referring to was case law from 1964: State v Morrisy (not the lead singer of The Smiths) when it was decreed that a tavern owner running poker games in his gaff was deemed to be operating a gambling establishment.
I sure hope to god there are no witches or leeches in Wisconsin.
The only option left for Kroon and Verrett is to purse the matter at the state's Supreme Court….or keep the money under the table…wink…wink…nudge…nudge.