Stephen Foster has picked up his first-ever Grosvenor United Kingdom Poker Tour Main Event title after cutting a four way deal to earn himself £24,500 in Leeds.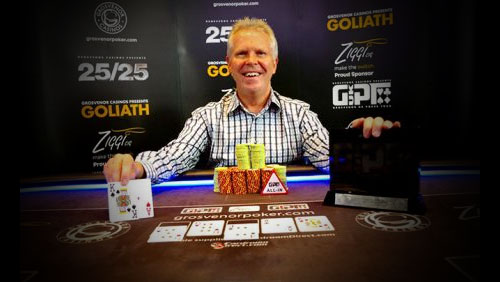 Stephen Foster has beaten a final table that included Luke 'LFmagic' Fields and Richard 'Neptune04' Hawes to earn himself a new paperweight, and £24,500 in prize money, at the Grosvenor United Kingdom Poker Tour (GUKPT) £550 1xRe-Entry Main Event in Leeds.
Foster has been filling up his Hendon Mob data for the past four years. This was his boutique moment. His previous best performance occurred in November when he defeated a field of 86 entrants in a £330 No-Limit Hold'em (NLHE) Re-Entry event at the GUKPT festival in Blackpool. He picked up £6,870 for that win. He also recently final tabled a $600 buy-in event at the Venetian Deepstack. He finished eighth for $6,825.
The GUKPT was THE British tour until the highly polished United Kingdom & Ireland Poker Tour (UKIPT) increased the illumination, but the GUKPT keeps swinging. 249 entrants created a first prize of £35,700, but that was cut down to £24,500 after the final four players carved out a deal that saw them each take £19,500 with £5,000 left to play for.
It was a decent little final table. Frenchman Thomas Besnier had also won a GUKPT side event back in 2009, Simon Taberham finished 24th at the European Poker Tour (EPT) Main Event in London last year, but most eyes were cast on Luke 'LFmagic' Fields and Richard 'Neptune04' Hawes.
Hawes is a well known British grinder with a GUKPT side event title on his resume and close to $800,000 in online MTT earnings.
Luke Fields won the £550 Main Event in Sheffield back in GUKPT Season 4 for £9,250 and he also won the Tournament of Champions that year in Coventry beating 153 players to earn £44,250. Fields is more known for playing online as LFmagic where he has earned over $2.5m
Hawes would exit in sixth. Here is the hand that led to his demise:
Hawes limped the button, Fields completed in the small blind and Taberham checked his option from the large. The flop was [Jh] [8h] [3c], and Fields led for 33,000; both players called. The turn was the [Ts] and Fields fired a double barrel worth 77,000; both players called. The river card was the [Ac], Fields checked, Taberham did likewise and Hawes moved all-in for 383,000. Fields tank-folded, but Taberham tank-called. When the cards were turned over Hawes showed [9c] [8c] for the pair and missed open-ender, and Taberham took the pot with [Kh] [Js] for a stronger pair.
Then there were five. Much to the delight of the rest of the field, Fields would be eliminated next.
John Woodhead opened to 55,000 and Fields defended his big blind. The flop was [7c] [5s] [2s], Fields checked, Woodhead bet 80,000, and Fields check-raise jammed. Snap call. Woodhead flipped over pocket aces, and Fields showed [Kh] [7h] for top pair. The [8d] and [Td] finished off proceedings and foxy Fields was out.
After the final four players struck a deal things moved along pretty quickly until Foster found himself heads-up with Woodhead holding a 3:1 chip lead. Heads-up lasted 10-minutes. The final hand saw them both getting it in on the river on [6h] [5h] [4s] [Ac] [Kh] with Woodhead holding [Kd] [6s] – for two pair – and Foster taking the title holding [Ah] [Ks] for a stronger two pair.
Final Table Results
1st. Stephen Foster – £24,500*
2nd. John Woodhead – £19,500*
3rd. Simon Taberham – £19,500*
4th. Thomas Besnier – £19,500*
5th. Luke Fields – £6,500
6th. Richard Hawes – £3,850
7th. Gary Whitehead – £3,850
8th. George Wainberg – £3,100
9th. Renee Xie – £2,500
*Indicates a four way deal
The next stop for the GUKPT will be Luton. The series runs from Sep 13 – 20 with the highlight being the £1,090 buy NLHE Main Event.