Lee Davy brings you all of the weeks top news stories including 888 Holding's successful bid to buy bwin.party digital entertainment, Bluff magazine to shut down operations and Ben Warrington opens up his heart over his Venetian $5k debacle.
Last week the poker news feed was as cold as a coffin. This week things got a lot warmer after bwin.party digital entertainment plumped for 888 Holdings instead of GVC Holdings/Amaya Gaming in the highly publicized acquisition race.
The deal is not 100% secure, but for the time being it seems that bwin has accepted an £898m (€1.3bn) offer from 888 Holdings. That's despite the joint force of GVC/Amaya offering £900m. The way is open for GVC to still make a counter offer, but CalvinAyre's resident Gordon Gekko Rafi Farber doesn't think that makes much of a difference.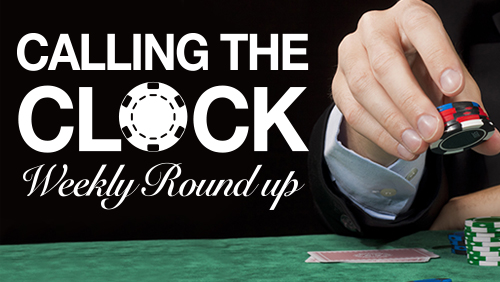 Cue the flow of champagne bubbles blubbering up to the surface like a case of the bends. Poker players love PokerStars. That's way everyone plays there. But there has been this growing sense that they have been getting a little too big for their boots. Let's hope the newly formed company can be the fatted calf we all hope it will.
The week prior, and amid the same sort of noise, bwin sold the World Poker Tour (WPT) to the Hong Kong-listed online games operator Ourgame International Holdings for $35m. Bwin Group Director of Poker, Jeffrey Haas, had executive responsibility for the WPT as part of his roles & responsibilities statement.
Not anymore.
There are sure to be a lot of managerial casualties/changes as a result of the new primordial soup being stirred by Teufelberger and Mattingly, and Haas has become the first high profile one to be announced to the public albeit via his own personal Twitter account.
Haas announced that he would be leaving bwin at the end of the month for 'a new adventure.' He also announced that he was forced to deliver his own baby daughter after his wife couldn't make the trip to the hospital. How very Bear Grylls of the man. I can just picture him holding the baby jubilantly aloft in a Lion King pose with afterbirth dribbling out of his mouth. All three are alive and well, and Haas now has something very unusual to add to that LinkedIn profile that needs a feather dusting.
The merger of 888 Holdings and partypoker should mean interesting things for the development of online poker stateside. Boy they need it. New Jersey online poker revenue numbers for June saw a 26.1% reduction in favor year-on-year and Delaware continues to have too many leaves rustling along their online poker corridors with $30,700 in revenue the second lowest amount dragged in this year.
Another disaster that hit the world of poker stateside was the news that Churchill Downs Inc. are closing down the operations at Bluff Magazine. A lot of extremely talented writers are going to lose their job after the iconic mag shuts down for good after over a decade in print. There is no official word yet, but employees have been tweeting that they are packing up their pencil cases and will be leaving by the end of the month.
Thank God for the World Series of Poker (WSOP). God knows where US poker would be without our beloved institution, although not everyone is as in love with it as I.
Matt Glantz went to print, very early in the series, to complain about a number of issues that he believed had led to the WSOP losing its luster. He felt so strongly about it he is even contemplating skipping the 47th iteration.
Well it seems Glantz views, which were repeatedly aired on Twitter, became too much for WSOP Tournament Director Jack Effel, who this week blocked Glantz after he had submitted a point by point improvement plan that included the formation of a player committee.
Effel has over 25k Twitter followers. As you would expect Glantz didn't take the news lying down, uproar ensued, support was gathered, pitchforks were sharpened, and Effel responded by apologizing and reinstating Glantz Twitter rights albeit with a cautionary note to tone it down a bit.
The post Vegas anarchy didn't end there. A thread broke out on 2+2 that British pro Ben Warrington had oversold action when playing in a $5k Venetian $2m Guaranteed event. The thread was started by Mark Herm who had a piece of Warrington's action and became suspicious over unusual communication concerning the did he or did he not fire two bullets question.
I sat down with Warrington to ask him why he did what he did, and his responses are a lesson to everyone within the poker community of the dangers that exist when things aren't quite going to plan. Samuel Bernabeu went on to defeat 547 entrants and collect $513,017.
Warrington wasn't the only person whose ear I bent this week. I spoke to the LGBTBet founder Kim Alexander about why they had decided to drop their online poker product, and I spoke to two co-founders of the non-profit organization Raising for Effective Giving (REG): Liv Boeree and Philipp Gruissem. Boeree will be speaking alongside the likes of Elon Musk, Nick Bostrom and Jacquelline Fuller at the Effective Altruism Global Summit in San Francisco, and we talked about her preparation for that, and Gruissem told me about his new project Re.Mind: Changing Perspectives. A training course and app designed to help people solve their life problems in a flexible way.
Boeree is currently touring America with the rest of her Team PokerStars chums as part of the Californians for Responsible iPoker campaign, and it wouldn't be a weekly round-up without some form of news from the largest online poker room in the world.
The schedule for the 14th iteration of the World Championships of Online Poker (WCOOP) has been released. It's big. It's very big. There will be 70 events (5 more than the previous record), $45m in guarantees ($5m more than the previous record) and a $51,000 buy-in Super High Roller (the largest online buy-in ever).
PokerStars also announced plans to merge the Latin American Poker Tour (LAPT) Season 8 finale with the Brazilian Series of Poker (BSOP) Millions. That decision will no doubt create the largest festival ever held in Latin American poker history. This week Claudio Moya defeated 366 entrants on his way to victory in the LAPT Peru Main Event, and former WSOP-APAC Main Event champion Scott Davies defeated 37 entrants to win the High Roller title.
Full Tilt were also in the news this week, and it was news that certainly caught me off guard. The company that recently dropped the word 'poker' from their title so they could concentrate on turning the site into an online casino added online grinder Marc Kennedy to their payroll in the newly formed position of Player Ambassador.
And a big hat tip has to go to the French poker player Laurent Polito after he became the first player to ever win four WPT National Series Main Events after defeating 428 entrants at the WPTN in Brussels this week. All four of his victories have come in the past three years, and it is a monumental achievement.
Time ladies and gentlemen
Someone just called the clock.
Comments