The World Series of Poker Tournament Director Jack Effel has blocked Matt Glantz on Twitter after repeated attempts to try and convey a series of potential improvements for the WSOP, causing players to react in 140-character uproar.
Welcome to the night Mr. Jack Effel.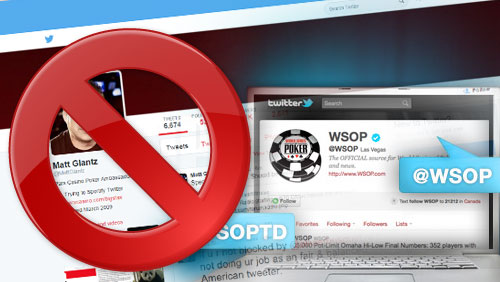 The World Series of Poker (WSOP) Tournament Director (TD) has blocked Matt Glantz on Twitter. It's not exactly a news story dripping in starlight, but Glantz is no ordinary guy. This guy has an army of little playmates and they seem to be going all 140-character over WSOPTD ass at the moment.
It all began way back in June. The 46th WSOP was in its infancy and most people were happy little celestial beings: everyone that is except Matt Glantz. After 38 cashes spread over a period of 15-years, earning over $2.5m and a WSOP gold ring, he felt he should have been happier.
Glantz headed to the keyboard and wrote an op-ed for Bluff magazine carrying the headline: "Matt Glantz Says the World Series of Poker is Losing its Luster."
It was hardly the apocalypse, but Glantz felt problems were sufficient enough to give constructive feedback and a potential solution.
BOOM! The new Modiano playing cards needed to be flicked back into the Italian muck because they were 'sub-standard,' 'paper thin' and 'too easy to mark and or be damaged.'
BANG! The new structures for the low buy-in event mixed games were slowly torturing the players.
KAPOW! The decision to sack PokerNews and take the media coverage in-house had created 'adequate coverage at best'.
BLAM! Cashier cage issues needed improvement.
ZONK! There was no real improvement in food offerings.
"I can honestly say this is the first summer I have ever had the thought that I might not come back next year." Said Glantz before warning the WSOP. "You should be greatly concerned. You should be scared."
His suggestion, and it seems a reasonable one, was for the WSOP to embrace the idea of creating a players panel of 6-8 players. Those chosen would have to be respected within the community, represented the entire WSOP customer base, and be responsible for trying to grow the WSOP brand.
The WSOP came and went.
Then on July 20th Glantz tweeted this.
Hoping @wsopSUITd & @WSOPTD recognize the need for a @wsop Players' Committee. We all want things to improve. pic.twitter.com/deuiORUxdG

— Matt Glantz (@MattGlantz) July 20, 2015
A few hours later he tweeted this.
Seems like an appropriate response to fair criticism. Oh well. Guess I'm done guys. glgl pic.twitter.com/JGfFLPdQWA — Matt Glantz (@MattGlantz) July 20, 2015
This kicked up a shit storm of fuss, and Effel was on the receiving end of some cat shit cream snowballs from the rest of the poker community.
Joseph Liberta wrote: "Jack if you want the @WSOP brand to die continue to do things like blocking @MattGlantz it should help expedite the process.
Jamie Kerstetter wrote: "Are teenage girls running WSOP's Twitter account?"
Other players started to come out of the woodwork, tore off their shirts and showed the branding of the 'WSOPTD Blocked' motif. Tom Marchese telling Glantz that he had also been blocked. Steve O'Dwyer welcoming him to his club.
WSOP $10k H.O.R.S.E champion Andrew Barber asking the obvious question: "This is a low point for the WSOP. Any possibility it's a misclick?"
He wasn't alone.
The only response thus far from Effel has been this tweet.
All players have voice @wsop We always try to make improvements. We tackled some things this year and will keep tackling more in off season.

— Jack Effel (@WSOPTD) July 20, 2015
So what do you think? Does Effel deserve criticism for blocking Glantz on the WSOPTD account? Do we have sympathy given the outpouring of criticism he probably received this year? Are Glantz's points valid? Should the WSOP set the tune and the rest of the world blindly follow? Are poker players whiny little bitches that deserve to be blocked? Do animals or human beings feel pain after being beheaded? Let us know.
I regret blocking any1 & apologize 4 offending U. Always been a man of the people but respectfully ask that comments be made in good tone TY

— Jack Effel (@WSOPTD) July 22, 2015