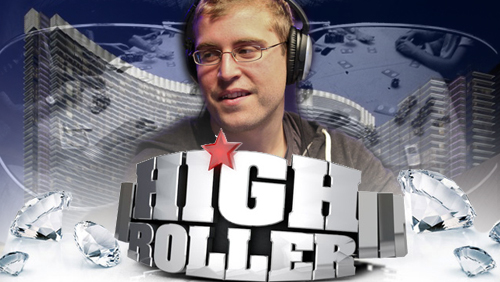 Tom Marchese has banked himself a tidy profit of $600,000+ after winning back-to-back $25,000 High Roller events at the Aria Resort and Casino in Las Vegas.
Did you know that there is an event called The Cooper's Hill Cheese-Rolling and Wake? It's an annual event held in Gloucester, over the Spring Bank Holiday, and it's a race to catch a 9lb round of Double Gloucester cheese as it's rolled down a hill.
Did you also know that there is an event called The Aria $25,000 High Roller? It's a poker game where men, and women, who can afford a $25,000 buy-in, sit down and play cards.
What do the two have in common?
They both involve Big Cheese on a roll.
Tom "BigCheese_Poker" Marchese has just finished at the top of the pile of both the Aria $25,000 High Roller II and III in Las Vegas. It's a perfect start to a year that follows on from his most successful.
In 2014, Marchese banked over $4.4m, including three seven figure scores, one of which came in September when he was victorious in the $100,000 Super High Roller event also at The Aria. He begins 2015 with over $600,000+ in profit after topping fields of 41 & 42 entrants, in what is fast becoming THE place to be in Vegas poker.
A special shout out should also go the way of Byron Kaverman. His progression through the ranks has been as impressive as the $1.4m he banked in the past 12-months. Marchese might have ended up on the top of the pile, but Kaverman was never far behind him.
In the High Roller II event – where Marchese and Ben Lamb chopped the prize money after Antonio Esfandiari was eliminated in third – Kaverman finished fourth for $80,360. Then in the High Roller II event, it was Kaverman who was benefiting from a three way chop after Daniel Alaei exited in fourth: Kaverman, Anthony Gregg and Marchese chopping the action in that one.
Aria $25,000 High Roller II Payouts
1st. Tom Marchese – $383,060*
2nd. Ben Lamb – $300,000*
3rd. Antonio Esfandiari – $140,630
4th. Byron Kaverman – $80,360
5th. Matt Hyman – $60,270
6th. Jason Mercier – $40,180
*Denotes a Heads-Up Deal
Aria $25,000 High Roller III Payouts
1st. Tom Marchese – $298,816*
2nd. Anthony Gregg – $282,435*
3rd. Byron Kaverman – $262,529*
4th. Daniel Alaei – $82,320
5th. Andy Philachack – $61,740
6th. Roger Sippl – $41,160
*Denotes a Three Way Deal