Frenchman Laurent Polito has won his fourth World Poker Tour National Series Main Event in less than three years, after victory over Michal Mrakes at the recent series in Brussels.
I heard someone say the other day that repetition is the bane of sensationalism. Today, that quote reminds me of Laurent Polito. It might not be a name that you associate with sensationalism, and that's rather my point. But he is a master of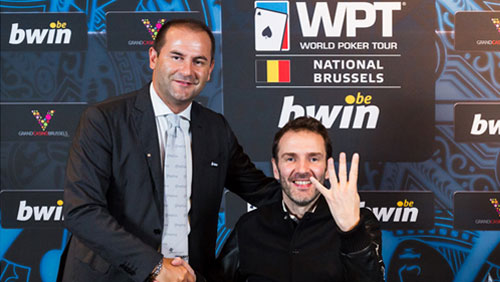 repetition – one of the best in the business.
The Frenchman has become the first player to win four World Poker Tour (WPT) National Series Main Event's. He did it in less than three years.
Polito is a silk thread away from joining the elite ranks. Until that time comes. He will be happy with the title of king of the strata that runs inches below the bigger buy-in events that muster life changing prize money.
Victory number four came from the recent WPT National Series Main Event held in the Grand Casino Brussels. 428 players entered the €700 buy-in event, creating a total prize pool of €280,233, and after three days in the hot seat, Polito walked away with the €56,500 first prize. 54 players were paid a minimum of €1,300 with Franck Kalfon (30th) and Kuljinder Sidhu (34th) in that pack.
Here is the fabulous foursome:
1. 2013: He beats 229 entrants in the €1,500 WPTN Paris for €74,500
2. 2014: He beats 391 entrants in the €1,200 WPTN Cannes for €86,000
3. 2014: He beats 615 entrants in the €1,200 WPTN Paris for €140,000
4. 2015: He beats 428 players in the €700 WPTN Brussels for €56,500
I remember when Polito captured his third title back in 2014.
"Why is nobody writing about this guy?" Asked one of my French media colleagues.
His sensationalism hadn't reached the right eyeballs. But he's getting there.
Fast.
Final Table Results
1st. Laurent Polito – #56,500
2nd. Michal Mrakes – €39,500
3rd. Mohamed Razab Sekh – €25,400
4th. Endre Sagstuen – €18,800
5th. Ngock Nguyen – €14,100
6th. Patrick van den Dries – €11,300
7th. Thierry Luksenberg – €9,400
8th. Jeremiah Tapia – €7,500
9th. Ivar Walstra – €5,603