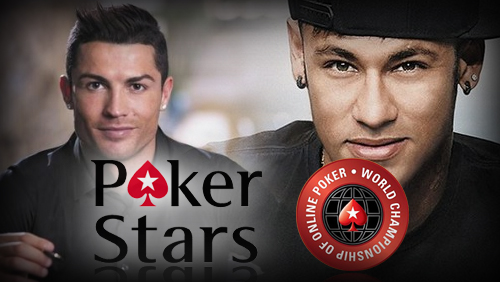 A trio of news stories from PokerStars including plans to host the first-ever $51k buy-in event in online poker history, a chance to play alongside Neymar Jr, and Cristiano Ronaldo chips up down under.
PokerStars has announced plans to set a new buy-in record with the introduction of a $51,000 buy-in event as part of the 2015 World Championships of Online Poker (WCOOP).
The $51,000 buy-in Super High Roller No-Limit Hold'em event will take place on Sun, Sep 20th – a full week before the $5,200 buy-in Main Event begins.
WCOOP will be celebrating its 14th birthday. An event that has grown from a $730k prize pool in 2002 to over $61m last year. The previous highest buy-in event was a series of $25,000 Heads-Up events held at WCOOP & SCOOP events in circa 2008 – 2011.
Neymar Jr and Cristiano Ronaldo News
They certainly have the money for a $51,000 buy-in event, but one doubts whether Neymar Jr or Cristiano Ronaldo will be seated at the virtual tables once the action gets underway.
Don't sweat it though.
PokerStars are offering their players a unique opportunity to play with Neymar Jr. in a specially organized game to create funds for his charity: The Neymar Jr. Institute.mar
The charity event will take place on July 26, as part of the Brazilian Series of Poker (BSOP), and it will cost participants $1,000 to enter with all the proceeding going towards the institute. PokerStars promise a star-studded line up of players, and you can qualify online for free. The event will also be streamed live on PokerStars.tv.
Neymar Jr recently popped into the Rio, during the World Series of Poker (WSOP) Main Event, to wish his good friend Felipe Ramos good luck during his deep run. Ramos introduced Neymar Jr to Phil Hellmuth Jr, who must of thought he was the smallest basketball player he had ever seen. The similarities between the two are uncanny. Both have the words Jr. in their name, and both are the inspiration for hundreds of millions of people around the world.
The Neymar Jr. Institute was established last year. It offers a wide range of opportunities for the under privileged children of Sao Paulo.
Finally, it's good to see that Cristiano Ronaldo is only human. He may be adored by millions of people, be one of the greatest footballers to have ever lived, and look great in a pair of Calvin's, but when he splits up with his other half he does what everybody else does. He fucks off to the casino to play poker.
What a lad.
First poker night with new chips. pic.twitter.com/5ZdHRhHihv

— Cristiano Ronaldo (@Cristiano) July 14, 2015
Comments